WATCH: Secret Service Visit Tom Arnold's Home Following Joke About Beheading Trump
Tom Arnold, Hollywood actor and fixture of the anti-Trump #Resistance movement, was visited by two Secret Service agents last month after his tweets criticizing President Donald Trump. The encounter was captured on tape obtained by Mother Jones.
The two federal agents visited Arnold, who hosts Viceland's The Hunt for the Trump Tapes series, due to one tweet in particular: "Next time Kathy won't be holding his fake head!" The tweet is a reference to Kathy Griffin's photo op in which she posed with a fake severed Trump head.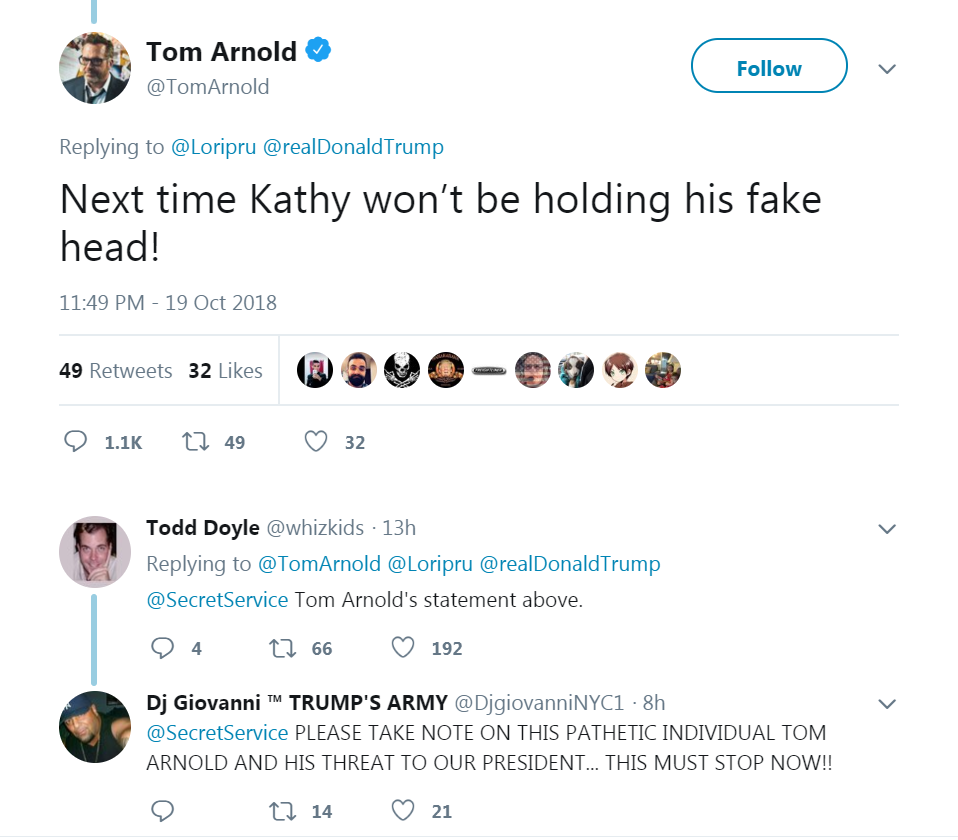 As can be seen above, several of the most-liked responses to Arnold's tweet tried to notify the Secret Service.
Six days later, on October 5, Arnold was paid a visit by Secret Service agents in Los Angeles, California after they contacted his rep and arranged the meeting a day before, per Mother Jones. The agents were instructed to interview Arnold by the agency's headquarters in Washington, D.C.
In the clip, Arnold and the law enforcement members can be seen sitting on his couch, where the agents reassure the actor he isn't being targeted, since "we go out on any and all tweets and Facebook posts or any type of threat."
"We don't just focus on — it doesn't matter if you have 100 followers on Facebook or 500,000 followers…We have to do our due diligence," the agent added.
He was then interrogated on a range of topics, ranging from basic info — like physical attributes and his personal info — to questions on his weapons training and whether or not he plans to physically confront the president.
As for his real thoughts on Kathy Griffin's photo stunt, Arnold told the agents, "I would never be part of something like that" and claimed his supposedly threatening tweet was just "a random throw-away" line.
During the interview, the agents were quick to note that "we're not the First Amendment police."
"You're free to say whatever you want to say within certain boundaries," one agent remarked. "In your type of case, what we're concerned with a lot, too, is the audience it can reach, that it could incite somebody to do something."
They also explained the motivation behind their visit:
"You see a lot of times when we've had previous attempts on the president's life, they got motivated by somebody… So that's the worry. It's kind of twofold. We're addressing the tweet, but we also want to make sure what you said, what can be taken as… And then obviously at the end of this whole thing, the biggest thing is to make sure it doesn't happen again."
After they told Arnold that his status as a public figure means his fans could be incited to violence due to his words, the actor assured them that he will "respect what you said."
When reached for comment by Mother Jones, a Secret Service spokesperson said, "For operational security reasons, the Secret Service cannot discuss specifically nor in general terms the means, methods or resources we utilize to carry out our protective responsibilities."
Watch above, via Mother Jones and YouTube.
Have a tip we should know? tips@mediaite.com