WATCH: Students Chant 'John McCain's Dead' While Protesting Ben Shapiro at Ohio State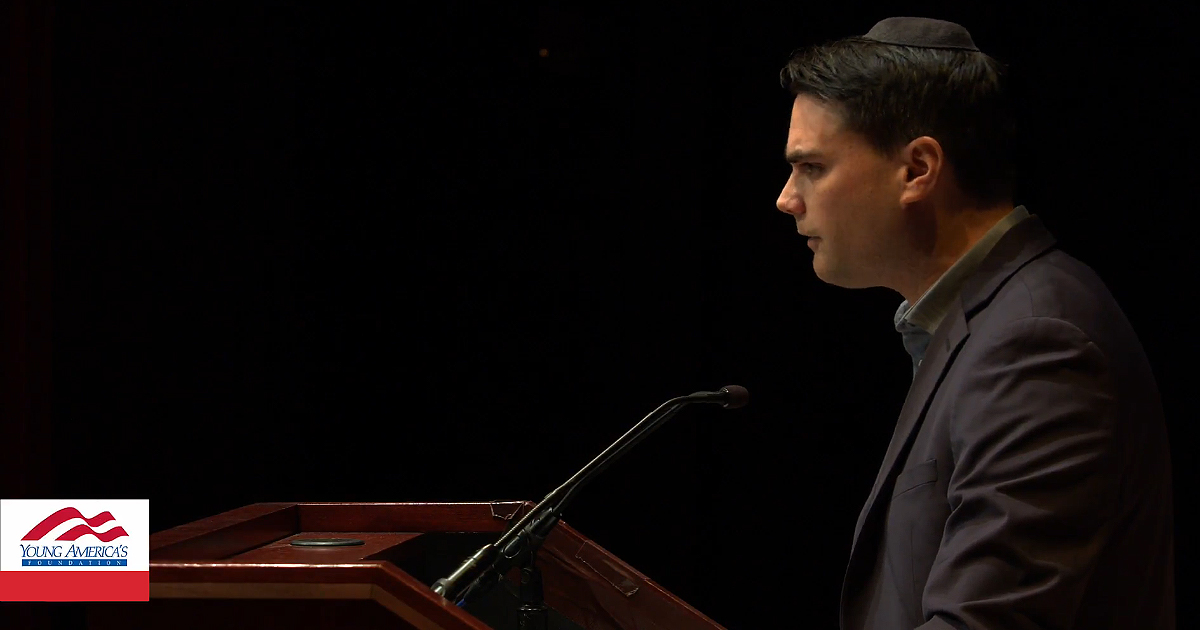 Ben Shapiro speaks to students at Ohio State University on Tuesday, November 13, 2018.
Conservative radio host and author Ben Shapiro spoke as a guest of the Young America's Foundation on the campus of Ohio State on Tuesday night and student protesters gathered, as happens at most of his lectures, to demonstrate and shout. In this case, among other things, shouting "John McCain's dead!"
Emily Jashinsky of YAF posted the video to Twitter, and wrote about what happened for The Federalist.
New video from @YAF show @benshapiro protesters at OSU chanting "John McCain's dead." Story in @FDRLST https://t.co/SMEjbeyDr9 pic.twitter.com/HzDK30RhF3

— Emily Jashinsky (@emilyjashinsky) November 14, 2018
The students were first shouting "Reagan's dead" before they changed which Republican's death they were gleefully celebrating because of how woke and non-violent they are. They also apparently chanted "Bush Senior's dead" before they realized that, no, in fact, he's alive. So besides woke, they're smart.
YAF and other people in attendance posted additional videos of the reasonable, adult behavior to their Twitter account.
While a productive and civil discussion is going on inside the event, the hypocrisy of the Left is on FULL BLAST outside the venue.

There's only one place that hate is coming from tonight and it's not @BenShapiro… pic.twitter.com/YtstspUIzc

— YAF (@yaf) November 14, 2018
Different variation of the O-H-I-O chant now from the anti-Shapiro protesters pic.twitter.com/rj2BjqMBHg

— Edward Sutelan (@EdwardSutelan) November 14, 2018
Protesters against Ben Shapiro have arrived pic.twitter.com/3tyLxhLytY

— Edward Sutelan (@EdwardSutelan) November 14, 2018
Protesters and counter-protesters having quite the spirited debate here outside Ben Shapiro's event. pic.twitter.com/GUSLrDjgv3

— Edward Sutelan (@EdwardSutelan) November 14, 2018
Okay, maybe Santa wasn't a student. But among the protesters were definitely students.
We would explain to you at this point in a story like this, normally, what exactly they were protesting about, but your guess is as good as Reagan's. It's not exactly clear. There were some "Free Palestine" signs so… that?
Anyway, Shapiro apparently carried on with the show despite the outside disruptions.
"Apparently there are protesters outside shouting 'fuck Ben Shapiro.' Sorry to break it to you all, but I'm married." – @benshapiro

— Kyle Kashuv (@KyleKashuv) November 14, 2018
At the Daily Wire, Shapiro's website, they may have more on the motivation of the anti-McCain students.
Watch the clip above, courtesy of YAF.
[Featured image via screengrab]
—
Follow Caleb Howe (@CalebHowe) on Twitter
Have a tip we should know? tips@mediaite.com