'We Are No Better': Media Company CEO and Obama Supporter, Equates Syrian Nerve Gas With Pesticides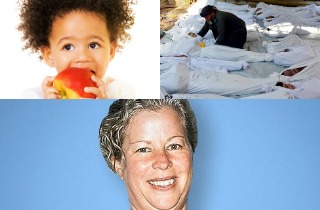 Sometimes in our lives, we stumble upon moments that make us question our choices. If I'd have taken a left turn instead of a right, where would I be today? The pain of those moments is most acutely felt when, for example, one comes across an op-ed – submitted, presumably, freely and without threat of force or coercion – by a wealthy and successful publisher who equates the methodical gassing of children in Syria with feeding non-organic fruit to kids. It is then that we can all be forgiven for asking ourselves, "where did I go wrong?"

Maria Rodale, CEO and chairman of publishing house Rodale, Inc., manages a variety of periodicals that are household names, including Men's Health, Women's Health, and Prevention. She is also an outspoken supporter of President Barack Obama, as she freely admitted in the open letter to the president published in The Huffington Post on Wednesday.
But Rodale is concerned by Obama's push for military action in Syria in response to that regime's systematic and escalating use of chemical weapons on civilian populations. Rodale is concerned, not because children are being gassed en mass, but because the United States would view the precedent-setting use of chemical weapons to be a casus belli.
No, says the author of Organic Manifesto: How Organic Food Can Heal Our Planet, Feed the World, and Keep Us Safe. In fact, the taboo on chemical weapons is being violated every day on an unimaginable scale because children around the world are being poisoned by non-organic produce. Seriously.
"I do not consider myself a Christian," Rodale writes, "but I would like to quote Jesus and ask, 'Who among you has not sinned?'"
"Yes, Syria has undoubtedly used chemical weapons on its own people. Maybe it was the government; maybe it was the opposition; maybe you know for sure," she continues. "But here's what I know for sure: We are no better."
We have been using chemical weapons on our own children — and ourselves — for decades, the chemical weapons we use in agriculture to win the war on pests, weeds, and the false need for ever greater yields.
Sure, some might call her a raving lunatic who may be ill-advisedly experimenting with a reduction in her daily medication. Others would call Rodale a beacon of sanity in an insane world. Then there are those who wonder what kind of a God would allow the cosmic injustice of this person's fortune and success to continue, given the fact that she not only holds asinine opinions like these but thinks advertising them is a clever move. Count me in the latter group.
—–
[h/t] Fishbowl NY
[Photo via Shutterstock / Adweek / Reuters]
—–
> >Follow Noah Rothman (@NoahCRothman) on Twitter
Have a tip we should know? tips@mediaite.com