Westboro Baptist Church Releases 'You Might Be A Slut' Ad, Hopes To Get It On Limbaugh's Show
Westboro Baptist Releases 'You Might Be A Slut' Ad, Hopes To Get It On Limbaugh's Show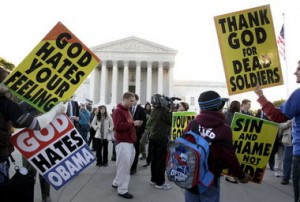 Rush Limbaugh's radio program is in need of new advertisers, and now he's getting public offers from one group to advertise on the show. Only problem? It's the Westboro Baptist Church. Yes, those fun-loving people came out with two ads on Friday that they hope will get a chance to air on Limbaugh's show, though if the broadcasters decided not to run with ads from a company that promotes adultery, one can only imagine what their reaction to this must be.
RELATED: Anonymous Claims Westboro Baptist Church Initiated Feud For Attention, IP Addresses
True to form, the WBC's ads are just about as tactful as you would imagine. The first one is titled "You Might Be A Slut," and it features someone doing an imitation of Jeff Foxworthy.
"If you wear a dress that is strapless with a brassiere that isn't, you might be a slut," an announcer says. "If you are an anchor bimbo for Fox News and your name is Kelly or Julie, you might be a slut."

"If you think it's OK to have sex with men outside the marriage bed, you might be a slut," the commercial continues. "And if you fornicate your brains out and you think the government ought to pay to kill your baby, well, sounds like a slut to me — and God hates sluts."
The second ad they released is more a parody of monster truck commercials, only instead of yelling "TRUCKASAURUS!!!" the announcer screams things like "America is doomed!" and "Your pastors are whores!" Obviously, the broadcasters rejected the ads outright. The public relations director for Premiere Networks said they're not seriously considering the sponsorship offer.
But it's not like the Westboro Baptist Church is completely okay with this either. Apparently, they have some fundamental disagreements with Limbaugh on a lot, but when it comes to calling Sandra Fluke a slut, a spokesman for the group says that they're on the same side.
"Even a blind hog can get an acorn every once in a while," Drain explained. "We're not aligning ourselves with Rush Limbaugh because as we say on our website about him, he wouldn't recognize Bible truths if it were a bottle of pills sitting on his desk."

"He's a guy who is on the air entertaining people with his take on political matters," the Westboro spokesman added. "Now all of the sudden Toyota, Allstate and all those big companies — they know what his show is about, it's about right-leaning ideological political opinion and religious opinion sometimes. Now they want to cry foul because he said, look, if you are bellyaching about the government paying for your birth control, that smacks of promiscuity."
He added that compared to Fox News and Limbaugh, the rest of the media is "in kind of a slavish modality to the fag agenda."
RELATED: The Westboro Baptist Church Protested A Foo Fighters Concert, So The Band Played Them A Little Song
Listen to the "slut" ad below:
h/t Raw Story
Have a tip we should know? tips@mediaite.com
Josh Feldman - Senior Editor