Everything Old is New Again: 10 Years Later Talk Liberty Launch the Media's Favorite Metaphor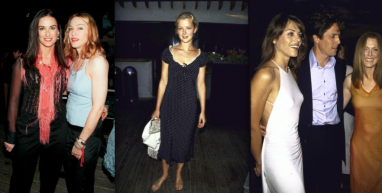 Talk is in the air, or at least its 1999 Liberty Island launch party appears to be the current Titanic-esque metaphor for what has happened in the media word in the last ten years. Tina Brown mentioned it a few weeks ago in a column eulogizing its party planner, referring to it as "the last social celebration of the pre-9/11 celebrity decade." And in today's column David Carr uses yesterday's 10th anniversary of the party to expand on the theme.
Anyone who paid even a cursory amount of attention to the gossip pages at the time and/or lived in New York will remember it. What was less clear to everyone involved, as Carr points out, is that unbeknownst to its attendees it may have been doubling as a good-bye to all that party.
Too bad nobody saw the sharks circling in the harbor. Rather than the culmination of a century of press power, the Talk party was the end of an era, a literal fin de siècle…."Tina [Brown], for all the excellence of her antenna, was scratching the air, and like many of us, was unable to pull in the new signal," [Peter Kaplan] said. "She failed to see that it was probably already over and that there was something slightly hollow about that event."
Her and everyone else, though Brown has certainly adapted more quickly and successfully to the new media world than any of her fellow magazine giants from back in the day. That party seems to belong in another lifetime (the 18th century, says Brown). Imagine throwing a launch party like that now, and not just for a magazine, but for anything. Or throwing it on Liberty Island — the security restrictions post 9/11 would likely make it an impossiblity. I noted the starkly different tone back in the fall when The Daily Beast celebrated its arrival on to the media landscape with a get together at Pop Burger.
Another interesting note. It is hard to find pictures of that party on the Internet. There are of course a number floating around Google images, but just a handful, especially considering the star wattage in attendance that night. It's strange now to recall that Gretchen Mol was such a big deal, or see Hugh Grant and Elizabeth Hurley still a couple, and wow, hello David Copperfield! — It's funny to remember that as recently as ten years ago parties and events — particularly of the caliber of the Talk's launch — were still the dominion of the gossip pages and society photographers, which in those days were still all-powerful. No camera phone pics (did cell phones even have cameras then?) no homemade YouTube vids. And no twittering. What a difference a decade makes. Anyone want to hazard a guess at what things will look like in 2019?

10 Years Ago, an Omen No One Saw [NYT]
Farewell to the King of Parties [The Daily Beast]
For Talk Magazine, Eclectic Party and a 'Hip' List [NYT]
TINA BROWN'S TALK-ING POINTS [NYDN]
Have a tip we should know? tips@mediaite.com