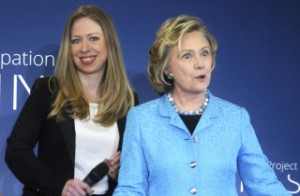 The latest controversy to kick up around the presidential candidacy of former Secretary of State Hillary Clinton centers around the separation of her work for the government and that of the charitable Clinton Foundation. The issue has been simmering ever since the publication and synergization of the anti-Clinton book "Clinton Cash," but came to a boil with the release of a new batch of State Department emails revealing communications between the foundation and Clinton staffers at State. Those revelations were followed by an Associated Press report on donors to the Clinton Foundation who also met with the State Department, all of which painted a picture that raised concerns with some, but which everyone so far agrees shows no demonstrable wrongdoing.
Something else that a lot of people agree on is that the Clinton Foundation does a lot of good work, but not everyone knows just what that good work consists of. In fact, until recently, there was a considerable amount of noise alleging all sorts of terrible things about the Clinton Foundation that have since been debunked. The most popular of these were the twin charges that the foundation spent only six percent of its donations on charitable work, and that they used donations to fund lavish expense accounts and salaries.
As it turns out, the foundation actually spends more on charity programs than most other charities. From FactCheck.org:
Daniel Borochoff, president and founder of CharityWatch, told us by phone that its analysis of the finances of the Clinton Foundation and its affiliates found that about 89 percent of the foundation budget is spent on programming (or "charity"), higher than the 75 percent considered the industry standard.

By only looking at the amount the Clinton Foundation doled out in grants, Fiorina "is showing her lack of understanding of charitable organizations," Borochoff said. "She's thinking of the Clinton Foundation as a private foundation." Those kinds of foundations are typically supported by money from a few people, and the money is then distributed to various charities. The Clinton Foundation, however, is a public charity, he said. It mostly does its own charitable work. It has over 2,000 employees worldwide.

…We looked at the consolidated financial statements (see page 4) and calculated that in 2013, 88.3 percent of spending was designated as going toward program services — $196.6 million out of $222.6 million in reported expenses.
That's why you can have Donald Trump claiming, in January, that his donation to the Clinton Foundation was misused, and have his campaign manager praising the foundation's good works over and over this week. Trump's not alone, though. There are many conservative figures who have supported the Clinton Foundation over the years, including longtime Clinton antagonist Newsmax.
The foundation is best known for its work combating malaria and HIV/AIDS worldwide, work which is done through the Clinton Health Access Initiative (CHAI), which was spun off into its own separate nonprofit in 2010. Although Malaria deaths have decreased dramatically over the past 15 years, the disease still claims almost half a million lives a year worldwide, and CHAI provides over $1 billion annually for malaria prevention and elimination. The group also helps about eight million people per year get affordable treatment for HIV/AIDS.
The Clinton Global Initiative is another well-known spoke in the Clinton Foundation, an influential annual meeting of world leaders and global movers and shakers that was also spun off as part of an agreement to avoid conflicts of interest when Hillary Clinton became Secretary of State.
Through other initiatives, the Clinton Foundation also fights childhood obesity in the United States, combats climate change worldwide, and provides training and assistance to farmers in Malawi, Rwanda, and Tanzania.
Because of the recent revelations, the foundation has announced that it will cease accepting foreign and corporate donations if Hillary Clinton is elected president, but others have called for the Clinton Foundation to simply be shut down.
This is an opinion piece. The views expressed in this article are those of just the author.