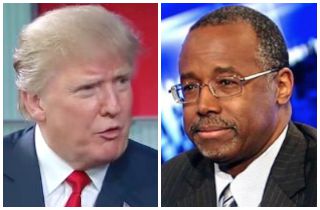 Sh*t just got real between Republican frontrunner Donald Trump and retired neurosurgeon Dr. Ben Carson. According to two polls released this week, Dr. Carson could present the first real challenge to Trump's supremacy since the real estate mogul rocketed to the front of the GOP pack a few months ago. In a Monmouth University poll of Iowa voters, Carson tied Trump at 23 percent, and in a brand new national Public Policy Polling survey, Carson was the only Republican candidate to beat Trump head-to-head, with 49% of Republicans saying they preferred Carson to 43% for Trump.
In that national poll, Trump still leads the field overall with 29%, and Carson is a distant second at 15%, but these results show room for Carson to overtake Trump should the field narrow. Up until now, the two candidates have been playing nice with each other. Carson has defended Trump over his immigration remarks, while Trump has done little but mention Carson in his frequent Twitter polling updates, although he did retweet a message that contained a mild compliment for Carson.
Now that Carson presents a real threat to Trump, it will be interesting to see what happens when Trump inevitably attacks him. So far, Trump has not only gotten away with attacking sacred cows like an opponent's wife, a war hero, and a Fox News superstar, those controversies have only made him stronger. Carson, though, is a different case, because he's a sacred cow of a different color. First thrust into political prominence by sticking it to President Obama at a prayer breakfast, Dr. Carson has become a symbol of resistance to the Obama presidency, as well as a convenient talisman against accusations that such resistance is rooted in race. Both Carson and Trump do appreciable better with the 54% of Republicans who believe President Obama is a Muslim, despite the fact that they all threw a synchronized conniption over Obama's regular attendance at a Christian church.
The Trump-Carson dynamic will test the Beltway premise that Donald Trump and fellow non-politician candidates Ben Carson and Carly Fiorina are tapping into some general "anger at Washington," rather than an intoxicating cocktail of white male resentment. If the former is true, then attacking Carson should measurably damage Trump, and if the latter is true, it will send Trump into higher orbit, and Carson to the trash heap. Some of that will depend, of course, on how Trump attacks Carson.
Technically, Trump already has attacked Carson, and in a way that serves as a guideline for future attacks. In November, Trump tweeted "Sadly, because president Obama has done such a poor job as president, you won't see another black president for generations!"
A few weeks ago, Trump was asked about that tweet, and he did not back down:
Although this was obviously an attack on President Obama, it was also an attack on the electability of any black presidential candidate, which would include Ben Carson. It's actually a premise that was pioneered in 2008, when former President Bill Clinton delivered this assessment of then-Senator Barack Obama's campaign in South Carolina:
The idea there is that a black candidate's appeal is too narrow to secure a win in a general election, and in Trump's case, certainly not after the feel-good "disaster" that was the Obama presidency. Clinton took a lot of guff over this, but if delivered properly, Donald Trump doesn't have to worry about Republican voters seeing through the ruse. Trump can frame it as "real talk" about the need for a nominee with broad appeal, appeal that Trump has demonstrated a knack for attracting among Republicans.
"Ben Carson is a wonderful guy," Trump can say, "and it's a shame, but thanks to President Obama, there won't be another black president for generations."
There are also ample substantive grounds on which Trump can attack Carson without ever having to get to his left on the social issues that make Carson so appealing to evangelicals. Like the many liberals who are afraid to attack Ben Carson, Trump can begin by complimenting Carson's "inspirational" story and medical brilliance, but then pivot to his lack of leadership experience. "He's a wonderful guy, but we're not fixing brains here, we're getting killed by China. We're not separating Siamese twins, we're separating Mexico from Texas with a beautiful wall!"
A less likely but characteristically bold strategy would be for Trump to chalk Carson's success up to political correctness. "With all due respect, because he's a wonderful guy, people who support Ben Carson are doing it so PC liberals can't call them racist," that tweet will read.
However he does it, Trump will need to go after Ben Carson in fairly short order, and when he does, Republicans will choose Trump. You can bet on it, if you can still find anyone willing to bet against Donald Trump.
Have a tip we should know? tips@mediaite.com