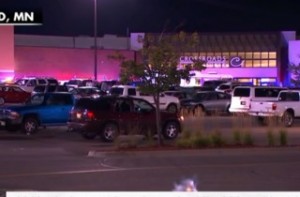 The man who stabbed 9 people in a Minnesota shopping center on Saturday night has been identified as a 22 year-old student named Dahir Adan.
Ahmed Adan identified his son as the man who walked into the Crossroads Center Mall, dressed as a private security guard, and proceeded to attack 9 people with a kitchen knife. Dahir Adan was said to have shouted out references to Allah during the attack, and asked at least one of his victims if he was a Muslim before stabbing them.
Adan was eventually shot dead by an off-duty police officer, and none of his victims suffered life-threatening wounds.
This is the 22 yr old, Dahir Adan, police say stabbed 9 people at a Minnesota mall. He was a private security guard pic.twitter.com/JYSfMHgeBU

— Katie Hinman (@khinman) September 19, 2016
Adan comes from a Somali family, and his father told the Minneapolis Star Tribune that his son was born in Kenya before they moved to America 15 years ago. Adan's family members said that he was a student at St. Cloud State University (though he hasn't been enrolled since this spring), and his father said he had "no suspicion" of his son's involvement with terrorism.
Investigators took various photos and other materials during a search of the Adan family apartment this weekend, and police were reported to have executed two search warrants in connection with the case. Adan's car has also been impounded from where it was left in the mall parking lot.
Based on a statement from Electrolux spokeswoman Eloise Hale, it is possible that Adan got his security uniform from Electrolux Home Products in St. Cloud, where he worked as a weekend security man. Jama Alimad, a local community leader and friend of the family, said that Adan was "the most assimilated kid in the neighborhood," and that she was surprised to hear of his attack since he seemed more interested in sports than religion.
Authorities state that Adan's precise motivations are not yet clear, though ISIS-linked media channels have praised his actions and called him a "soldier of the Islamic State."
Minnesota is home to a large community of immigrants, and Jaylani Hussein of the Council on American-Islamic Relations spoke out this weekend to condemn the violence and express concern about potential Islamophobic backlash.
Watch a report on the attack in the video above, via Fox.
[Image via Facebook]
— —
>> Follow Ken Meyer (@KenMeyer91) on Twitter
Have a tip we should know? tips@mediaite.com