WHCA Gets Panned For Statement Lamenting Michelle Wolf's Speech: 'Such Wimps'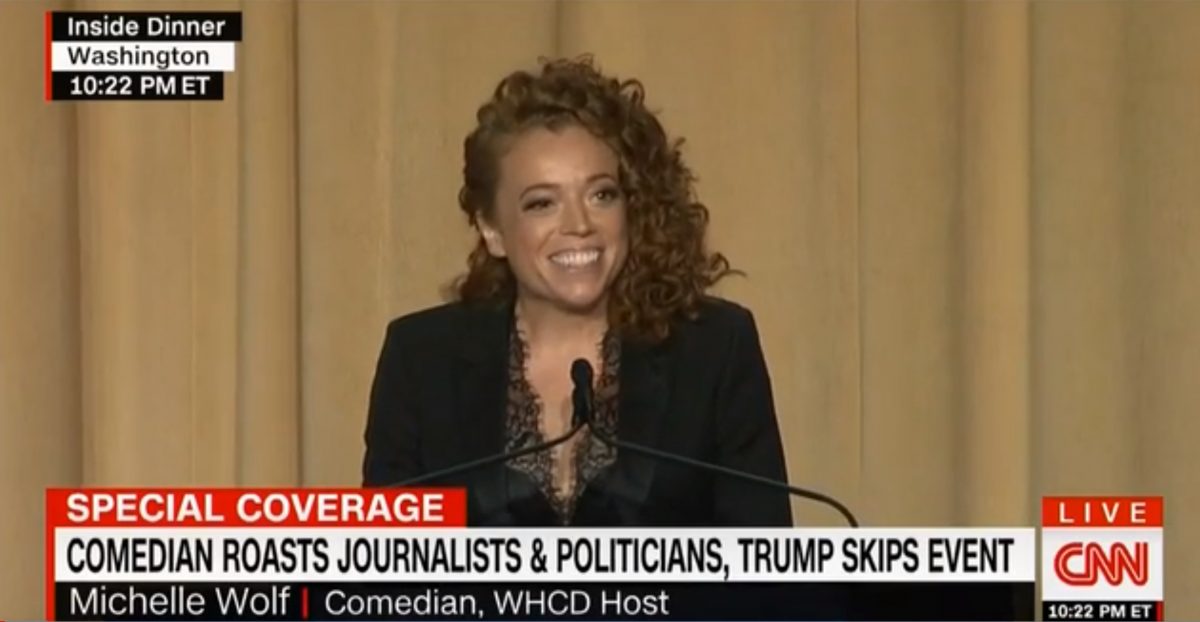 Margaret Talev, the White House Correspondents' Association president, released a statement Sunday night in which she declared comedian Michelle Wolf's monologue was "not in the spirit" of the mission of the dinner.
Wolf's monologue, in which she brutally roasted Sarah Huckabee Sanders for her dishonesty, as the White House press secretary sat frozen just feet away on the dais, was widely condemned by many journalists in the room in its aftermath.
"Last night's program was meant to offer a unifying message about our common commitment to a vigorous and free press while honoring civility, great reporting and scholarship winners, not to divide people," Talev said in the statement.
"Unfortunately, the entertainer's monologue was not in the spirit of that mission."
This statement from White House Correspondents' Association President @margarettalev is a good first step toward long-overdue reforms of the #WHCD. To my press corps colleagues: Let's fix this. pic.twitter.com/J7f5Rq2PK5

— Gregory Korte (@gregorykorte) April 30, 2018
But Talev's statement, in which she lamented the comedian's routine, itself received a rebuke from many on Twitter who saw it as a capitulation to the feigned outrage of President Donald Trump — who labeled Wolf a "filthy comedian" — and his allies.
Little by little, people surrender willingly, and the authoritarians get what they could never have taken with their own strength. https://t.co/07QFu2Tzy8

— southpaw (@nycsouthpaw) April 30, 2018
I, too, am outraged that someone accurately described the actions of powerful people without pretending to entertain explicit falsehoods https://t.co/u89wbosFDA

— Ashley Feinberg (@ashleyfeinberg) April 30, 2018
at the very least I hope this teaches the non-radical libs that The Press is not on their side and cringes at the idea of an adversarial relationship to power https://t.co/VXYczbwNDo

— Official Centrism (@pareene) April 30, 2018
u know the journalism motto: comfort the comfortable and afflict stand up comedians https://t.co/DFJSSNIt2u

— Joanna Rothkopf (@joannarothkopf) April 30, 2018
Trump is technically right about the press being bad but it's for the exact opposite reasons that he's been claiming. https://t.co/vH4YoJ6ihF

— Murtaza Mohammad Hussain (@MazMHussain) April 30, 2018
Jesus Christ. can you imagine being a little kid, wanting to grow up and get into journalism someday, only to end up writing fawning letters apologizing for how mean a comedian was to the president?

To my press corps colleagues: please choke on turds forever https://t.co/nxTAZ3LYFw

— i have died (@ChrisCaesar) April 30, 2018
yes, the truly inappropriate thing about the president's press secretary repeatedly lying to the American public is when someone makes a joke about it https://t.co/8W8N7opVcs

— Sam Adams (@SamuelAAdams) April 30, 2018
"First step towards long overdue reform"

It's a fucking dinner, not Myanmar human rights.

Here's a 1st step: Get over yourselves @whca.

Do your job. Cover the WH honestly. Honesty will require brutal honesty. Wolf. Comey. It's jarring. Stop confusing crude w unfair.

ASAP. https://t.co/MTcedQf8oO

— Philippe Reines (@PhilippeReines) April 30, 2018
You guys are all such wimps

— Patrick Monahan (@pattymo) April 30, 2018
[image via screengrab]
—
Follow Aidan McLaughlin (@aidnmclaughlin) on Twitter
Have a tip we should know? tips@mediaite.com
Aidan McLaughlin - Editor in Chief