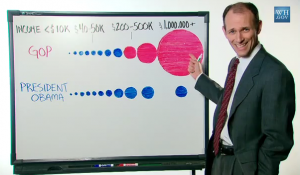 The White House introduced the "White House White Board" this morning, a series of online videos in which staff members will presumably use simple graphs and illustrations on a white board to explain the administration's policies and goals. Basically, they're using a stolen idea from UPS commercials to try to explain how the GOP wants to steal from the middle class. While the visual diagram is definitely worlds away from keychains with pithy slogans, we can't help but imagine how much more fun this video would be with a catchy Postal Service beat.
In this first video, CEA Chair Austan Goolsbee uses a series of colored circles to show explain the Bush Tax Cuts and how they play out for different income brackets. Goolsbee is engaging and the circles definitely make for a striking image but some of the hyperbole screams for an easy rebuttal (Really? "Every" economist agrees that the tax cuts for the wealthy is the "least" effective way to save the economy?). Still, the video has already created some healthy debate over on YouTube where it was posted. Of course, most of those debates are on whether or not 9/11 was an inside job for some reason but, it's YouTube, so we might as well count every comment that isn't calling other users a racial slur as a win.
However, as breezy and simple as this video is, we still spent most of the time watching it imagining who would win in a Sword in the Stone meets Harold and the Purple Crayon-style battle between Goolsbee and the UPS guy. God, that'd be awesome.
Have a tip we should know? [email protected]