White House Confirms Jared Kushner and Michael Flynn Met With Russian Ambassador in December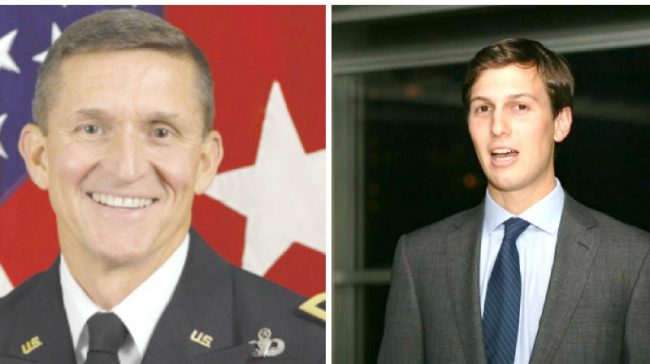 Following the Washington Post's story yesterday that revealed Attorney General Jeff Sessions met with Russian Ambassador Sergey Kislyak twice before the election as he was involved in Donald Trump's campaign, we have now gotten more reports of meetings between the Russian envoy and Trump advisers.
This afternoon, USA Today reported that two other Trump advisers — J.D. Gordon and Carter Page — also spoke with Kislyak at a conference in conjunction with the Republican National Committee. (This was one of the meetings Sessions had.)
Also, according to the White House itself, senior adviser (and Trump son-in-law) Jared Kushner and former National Security Adviser Michael Flynn attended a meeting at Trump Tower with Kilsyak in December. This meeting had not been disclosed until today.
Michael T. Flynn, then Donald J. Trump's incoming national security adviser, had a previously undisclosed meeting with the Russian ambassador in December to "establish a line of communication" between the new administration and the Russian government, the White House said on Thursday.

Jared Kushner, Mr. Trump's son-in-law and now a senior adviser, also participated in the meeting at Trump Tower with Mr. Flynn and Sergey I. Kislyak, the Russian ambassador. But among Mr. Trump's inner circle, it is Mr. Flynn who appears to have been the main interlocutor with the Russian envoy — the two were in contact during the campaign and the transition, Mr. Kislyak and current and former American officials have said.
Flynn would eventually resign as NSA last month over reports that he discussed Russian sanctions with the ambassador prior to Trump's inaugurations. Meanwhile, Sessions announced today that he had recused himself from any investigations related to presidential campaigns, though he insisted it was not directly related to his meetings or comments related to Russian contacts during his confirmation hearing.
[image via screengrab]
—
Follow Justin Baragona on Twitter: @justinbaragona
Have a tip we should know? tips@mediaite.com