White House Newsletter Links to a WaPo Piece Parodying Their Proposed Budget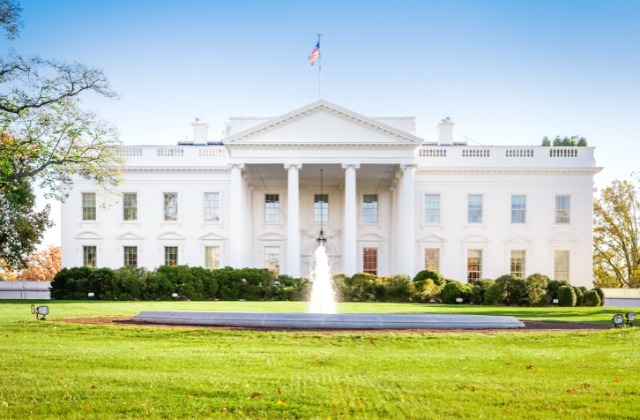 The White House newsletter 1600 Daily today includes a link to a piece that might seem like an endorsement of the budget unveiled this week… until you read past the headline.
On the 1600 Daily White House page, there are the usual highlights and such, President Trump's schedule for the day, and links to articles they want to share: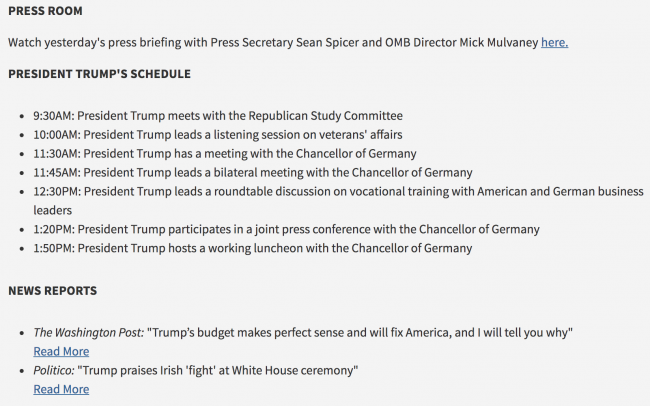 There's just one problem with touting that Washington Post piece: It's a parody. It's not actually a serious endorsement of their budget.
See, columnist Alexandra Petri's pieces are meant to have a satirical edge to them. (Headlines like "Great news: President Trump did not bite any bats in half during his address to Congress!" and "'Somebody Else's Babies' are a real menace" should make that rather obvious.)
It's not clear just how much beyond the headline "Trump's budget makes perfect sense and will fix America, and I will tell you why" checked first, but casual readers should at least be able to pick up on it by — at most — paragraph number 2:
This budget will make America a lean, mean fighting machine with bulging, rippling muscles and not an ounce of fat. America has been weak and soft for too long. BUT HOW WILL I SURVIVE ON THIS BUDGET? you may be wondering. I AM A HUMAN CHILD, NOT A COSTLY FIGHTER JET. You may not survive, but that is because you are SOFT and WEAK, something this budget is designed to eliminate.
Here's another example:
Agriculture Department: NO MORE OF THIS NAMBY-PAMBY "GATHERING" NONSENSE. We will be HUNTERS again. This is also why we are cutting the Supplemental Nutrition Program for Women, Infants and Children: Let them FIGHT for their meat or have NONE.
Petri told The Daily Beast in response, "It goes to show that as long as you confirm what the Trump White House wants to believe, you too can be cited in an email—and you can even work for the mainstream media and do it!"
[image via Shutterstock]
——
Follow Josh Feldman on Twitter: @feldmaniac
Have a tip we should know? [email protected]
Josh Feldman - Senior Editor