White House Press Corps Jumps Jay Carney Over Access To Debt Ceiling Meeting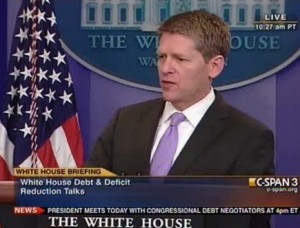 At Wednesday's White House briefing, Press Secretary Jay Carney told reporters that this afternoon's debt ceiling meeting with Congressional leaders would be restricted to a still only "pool spray" (a short period of time for pool photographers to take rapid-fire still shots) at the top of the meeting, and closed to reporters. Carney complained that the last time reporters had been allowed in one of these meetings, they had shouted questions at the President. The response didn't sit well with CBS News' Chip Reid, so he, and several others, challenged Carney on the media shutout.

Asked if TV cameras would be permitted in the top of the meeting, Carney replied that it would be a still spray only, and added, "I would remind you that the last time we had TV cameras in the meeting, it was less than 3 hours after the President had given a press conference, and people shouted questions at him, including people who had just had questions in the press conference. So, the purpose of the meeting is not to create a circus, but to negotiate."
That answer probably sounded really good in rehearsal, but it went over like the runner-up in a balsa wood pole-vaulting competition.
CBS Radio correspondent Mark Knoller cut in, incredulously, "Questions are a circus?," after which Chip Reid asked, "Are you telling us we can't ask questions?"
Carney responded, "He did a 70-minute press conference last week, he had a 45-minute press conference 3 hours before people walked in…"
Reid interjected, "So that exhausted everything that we could ask him about?"
"No," Carney responded, "the President will certainly take questions again, but they have work to do, so this isn't a matter of…"
"For the record," an annoyed Reid continued, "it's absurd for you to say that we can't ask questions when we go in there with a camera."
"I'm not saying that, Chip, you had questions that day…"
Reid interrupts, "And we're not allowed to ask more questions?"
"You certainly are," Carney said, trailing off. "I'm just saying we're doing a photo spray today. Still photo."
Disgusted, Reid concluded, "Well, it's an absurd reason, to say that, because we asked questions, you're not going to allow cameras in there."
ABC News' Jake Tapper chimed in, "(The President) is perfectly capable of ignoring our questions. He does it all the time."
It wasn't over yet, though. Later in the briefing, another reporter told Carney it seemed that cameras would not be allowed because "reporters misbehaved," and that "it sounds like you're punishing us."
"…Different meetings have different levels of access," Carney explained, "and we do it on a case-by-case basis…The President has taken questions quite a lot lately, as you know, and so he's not taking questions today. He may tomorrow. Or he may later, you know, but today, we're just doing a still spray, which is not unprecedented. We have done them in a lot of meetings.
Carney fell back on his own experience as a journalist, playing the "I was one of you" card, saying "I used to be where you are, it's fine to shout questions, but not every occasion are we going to have a full pool in a meeting."
Here's the clip, from C-Span:
Of course, if shouting questions really is "fine," then he wouldn't have brought it up. As a former member of our ranks, Carney certainly does understand, and it probably is fine with him, but the fact that he mentioned it, seemingly off-script, might indicate that the question-shouting melee had been discussed among the staff.
It might interest some reporters to know that Carney's predecessor, Robert Gibbs, actually did once encourage us to shout questions at President Obama. We all got a good laugh out of that one, which underscores the warmth that normally greets the occasional hollered query.
The White House press corps has been fighting a constant battle over access, but if the price of access is silence, well, we're all happy to turn out our pockets and show that we're fresh out of that. The White House, for it's part, would understandably like to avoid scenes like this, at the signing of the Daniel Pearl Freedom of the Press Act:
Have a tip we should know? tips@mediaite.com