White House Responds To Death Star Petition: We Do 'Not Support Blowing Up Planets'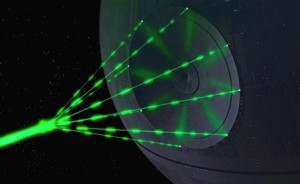 The White House petition website has gotten much public attention in the past few weeks for petitions about gun control, Piers Morgan, and secession, but when you get right down to it, what people really want is cool stuff that fires lasers and makes things explode. Hence the petition for the U.S. government to build a death star. Well, lest you think this important question regarding our nation's future would be passed on to another generation, the White House has finally responded to the petition to make real life just as exciting as Star Wars.
RELATED: This Exists: White House Issues Reponse To Online Petition Over Extraterrestrial Life
The response was written by Paul Shawcross, the head of the OMB's Science and Space Branch and a clear Star Wars fan. It is titled "This Isn't The Petition Response You're Looking For," and contains a bunch of fun Easter eggs for fans. Here are the three main reasons the administration will not be building a Death Star:
The construction of the Death Star has been estimated to cost more than $850,000,000,000,000,000. We're working hard to reduce the deficit, not expand it.
The Administration does not support blowing up planets.
Why would we spend countless taxpayer dollars on a Death Star with a fundamental flaw that can be exploited by a one-man starship?
However, the response takes a sharp turn towards the serious with information about the work being done on the International Space Station. In particular, it highlights a program through which NASA is allowing private U.S. companies are sending cargo into space, and the office that handles this is actually, seriously called C3PO (Commercial Crew and Cargo Program Office).
Shawcross ends by telling people that ultimately, no matter how kickass or awesome it would be to have our own personal Death Star, its power "is insignificant next to the power of the Force." Oh, all right then.
But this had better mean we get AT-AT Walkers instead.
—–
Follow Josh Feldman on Twitter: @feldmaniac
Have a tip we should know? tips@mediaite.com
Josh Feldman - Senior Editor