White House Responds to GOP Rep. Broun's Obama 'Socialist' Tweet During SOTU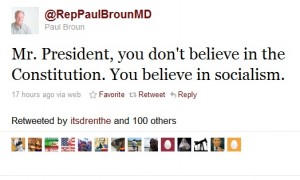 During Tuesday night's State of the Union address, Rep. Paul Broun (R-GA 10) became the closest thing to a "You lie!" moment, tweeting during the address "Mr. President, you don't believe in the Constitution. You believe in socialism."
Shortly thereafter, I asked White House Press Secretary Robert Gibbs if he had a reaction to the tweet, but he hadn't seen it yet. Gibbs was asked about it again at Wednesday afternoon's Air Force One press gaggle, and took the high road.
Broun sent several strident tweets during the address, including one that said of our troops, "Mr. President, give them the tools they need to defend our country. Not just lip service," perhaps in relation to that huge shortage of Makita power drills in our armed forces. He also said that the corporate tax rate should be zero, and that "illegal aliens are criminals," and that they "must go home."
When I asked Gibbs about Broun's tweet last night, he hadn't heard about it yet. I read it to him, and he said he'd try to find out about it. I mention this because it adds context to his response today. Gibbs was asked about Broun's tweet aboard Air Force Ona, and his response could be a bellwether for how the White House will manage unhinged opposition heading into the 2012 campaign: (Transcript via email from The White House)
Q    Also Paul Broun, a Republican from Georgia last night, tweeted during the State of the Union that — accusing the President of not believing in the Constitution, also not — and also believing in socialism.  What does it say about the call for civility last night that the President was calling for?

MR. GIBBS:  Look, again, I think we will be judged going forward on our ability to sit down and work together on not just sitting near each other or next to each other for an evening, but whether or not today we can get about the process of — and for the next year — getting about the process of finding some concrete solutions to the problems that we know we face.

We're going to visit a few companies today in Manitowoc that are meeting many of these challenges.  They're competing for — they're competing against the world in clean energy manufacturing.  They're hiring.  They're investing.  And I think all of that is — all of that is what we should spend our time thinking about and worrying about and, quite frankly, the bulk of our time working together to address.
Rather than teeing off on Broun (which the President's aliies most certainly will do), Gibbs let it slide with a verbal eyeroll, and returned the focus to the task at hand. This is in keeping with the tenor of the State of the Union address, which set a tone for productive bipartisanship that demands answers other than a flat "no."
Many liberals hear "high road" and groan at the memory of John Kerry's 2004 campaign, but Team Obama has demonstrated that they know the difference between taking the high road, and being run over.
One of Broun's later tweets really stood out to me, as well. Shortly after stating that a sitting US president (and Constitutional scholar) doesn't believe in the Constitution, and believes in socialism, Broun gave a critique of the SOTU with all the self-awareness of a Commodore 64:
Good speech-but long on hope and short on reality.
Have a tip we should know? tips@mediaite.com