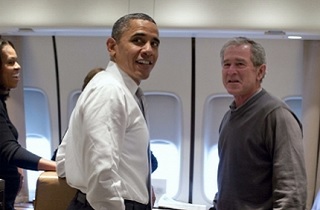 While the White House Correspondents' Association has been complaining, of late, about the lack of access for independent photojournalists, and slagging White house photographer Pete Souza in the process, this week's Nelson Mandela memorial provides an excellent contrast between Souza and the mainstream press. A look at the mainstream media's coverage of the memorial would lead news consumers to conclude that President Obama showed up, shook hands with Raul Castro, took a selfie, and bounced. Luckily, Souza was there to provide a more complete picture.
In their quest for more access to the President, WHCA members have derided Pete Souza as a Soviet-style propagandist, while attempting to favorably compare their own efforts with Souza's. Some have even enacted a boycott of Souza's photos. More press access to the President is almost always a good thing, but on this particular story, the comparison doesn't hold up so well. There were probably tens of thousands of photos taken at Nelson Mandela's memorial, but so far, the focus has been on just one, the so-called "selfie" session featuring President Obama, British Prime Minister David Cameron, and Denmark's Prime Minister Helle Thorning-Schmidt, with First Lady Michelle Obama scowling in jealous disapproval (or displaying a solemn look because she's at a funeral, and is maybe even reflecting on the suffering that Mandela and his country endured).
Even though the photographer who took the shot has tried to explain the nanosecond he caught on film, the media has continued to promote and focus on this moment. The White House, though, has released a set of photos from the South Africa trip, including of a smiling Michelle Obama next to the President and the Danish PM, that lets people see more of the trip than a selfie and a handshake, a handshake that looks, amusingly, like Darth Vader shaking hands with R2D2.
Absent from the white House photos, though, is a shot of the Castro handshake, a historic moment, and an indication that both Souza and an independent press are crucial to serving the public.
Here's the complete White House photo set for the trip to South Africa, from The White House:
[imageviewer id=1491]
Have a tip we should know? tips@mediaite.com