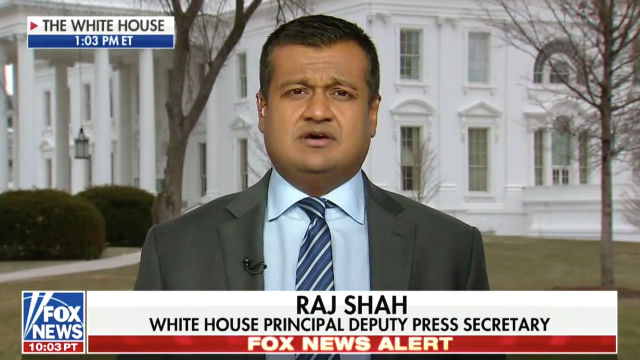 It's no surprise that people currently serving in the Trump administration used to publicly hate President Trump. But now we're learning just how much one privately did.
White House principal deputy press secretary Raj Shah has become a more visible White House spokesperson in recent months, but it turns out, per a new report from New York Magazine, he really couldn't stand Trump during the campaign.
See, Shah was a Jeb! supporter who joined the RNC in 2015, and while there he was interested in getting some anti-Trump oppo:
Six months after Trump announced he was seeking the Republican nomination, Shah sent an email from his personal account to Andrew Hemming, a senior RNC researcher, seeking anti-Trump opposition research.

Dated December 15, 2015 at 12:09 p.m., the email — the subject line was "Dawg" — contains a 2008 CNN transcript in which Trump speaks positively of then-president-elect Barack Obama and describes his decision to make Hillary Clinton secretary of State "a great appointment." Shah asked for footage of the interview — "Can we see if we've got?" — while telling Hemming to be cautious not to use an official RNC email while discussing the topic. "Nothing on GOP mail," he wrote.

Hemming quickly replied to Shah that he would look into the matter. At 1:04 p.m., he said, "Yep we have it on DVD. Let me know what you want me to do with it." At 2:21 p.m., he sent him the clip. "Tks man!" Shah replied.
The NYMag report notes that mere days later, the clip appeared in a Jeb Bush campaign ad:
But after the Access Hollywood tape, Shah sent a message to Hemming saying, "I'm kinda enjoying this, some justice. I honestly don't think it's the worst thing he's done but he somehow got passes for the other acts… Trump is a deplorable."
One White House official said Shah had told "his superiors in the administration" about these messages, and Hope Hicks put out a statement slamming the leaker(s):
Raj Shah is a talented operative and skilled communicator. We have always known about his previous roles and are so pleased he is using his unparalleled capabilities to advance the agenda of President Trump, whom he has tremendous respect for. Perhaps if the leakers trying to undermine him were as talented and smart as Raj, they would be here fighting for the American people every day, rather than trying desperately to remain relevant by spreading information that Raj himself shared many months ago. Raj's skills as a press secretary are only surpassed by his stellar character.
One little tidbit of interest in the report is the quote one anonymous Trump adviser gives about the people in the administration who hate Trump: "You hear them say things like, I'm serving the country. That's code for, I hate the fucker."
You can read the full report here.
[image via screengrab]
— —
Follow Josh Feldman on Twitter: @feldmaniac
Have a tip we should know? tips@mediaite.com
Josh Feldman - Senior Editor