White House to Boehner: Inviting Netanyahu to Speak in Congress Breaches Protocol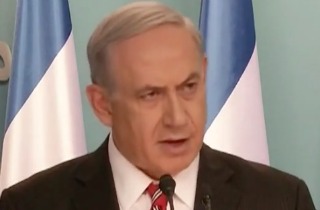 Speaker John Boehner's (R-OH) grand plans to thumb the Obama Administration by inviting Israeli Prime Minister Benjamin Netanyahu to hang with the House of Representatives and rail on Iran may all be for naught.
Earlier today, Boehner, furious that President Barack Obama threatened to veto legislation that would attempt to tighten sanctions against Iran, extended an invitation to Netanyahu to speak in front of Congress on February 11th. Currently, the State Department is in talks with Iran to freeze its nuclear program in exchange for loosening trade sanctions against the country, a proposition both the Republicans and Netanyahu are not happy with.
According to Press Secretary Josh Earnest, who only heard about the invite this morning, such an invitation would be a breach of diplomatic protocol between world leaders, reports the AP. Typically, the leader must initiate contact with the White House if he wants to visit the United States. The White House says they will wait to see whether Netanyahu and his team will respond to their reservations.
(If this seems like a minor deal, think of it like this: You suddenly declared that you were hosting a party at Evan's house and Evan had no say over it, but now you've invited your entire friend group to hang out in his hot tub and Evan's like, Dude, this is my house, you can't just invite people whenever you feel like it, but now everyone wants to hang out in Evan's hot tub, and so either way, you and Evan look like dicks.)
(Except imagine that the hot tub was nuclear armaments in the Middle East.)
[AP]
[Image via screenshot]
—
>> Follow Tina Nguyen (@Tina_Nguyen) on Twitter
Have a tip we should know? tips@mediaite.com