Whitney Houston's Casket Photo: Why Its Publishing Wasn't As Bad As The Media Made It Seem
Houston's Casket Photo: Why Its Publishing Wasn't As Bad As The Media Made It Seem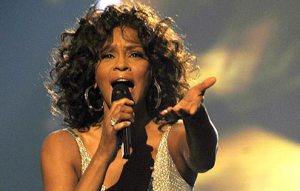 So the National Enquirer has once again pushed the journalistic envelope by publishing on its cover a sneakily-taken photo of Whitney Houston lying in an open casket.
Is there outrage? Of course. The finger-wagging by the media and fans was instantaneous following its release on Wednesday.
"Tabloid Revealing Whitney Houston's Casket On Cover Is Disgusting," screamed an Ology.com headline.
GossipCop wrote, "It's astoundingly poor taste and low stooping, even by the Enquirer's standards."
I could go on. But is everyone universally outraged at the photo's publication? Absolutely not.
I share with these critics that the Enquirer's decision to publish such a photo is definitely is intrusive to the Houston family.
"The family had a private funeral for a reason," wrote a reader on my site, GossipDavid.com, "not for this to get out,"
And I believe it didn't have the blessing of her family, despite some of the conspiracy theories some fans have expressed, suggesting the family leaked it for money (The Houston family, it should be noted, has yet to confirm the photo is legitimate). But I don't doubt its authenticity. As a former editor at People magazine, Star and TMZ's TooFab.com, I know this happens. After all, the Enquirer and others have a history of publishing such photos; two come immediately to mind: Elvis Presley's open casket snapshot in 1977, and a photo of a dead Michael Jackson on OK! Magazine's cover in 2009.
The fact that it's obviously not officially authorized is disconcerting. The picture is believed to have been taken inside the Whigham Funeral Home in Newark, where Houston's family attended a private wake last Friday. And families, regardless of their star power, need privacy while grieving. This explains why the family didn't go ahead with a public memorial at Newark's Prudential Center.
But celebrities live their lives in the public — they enjoy a symbiotic relationship with fans and the press — and it just comes with the territory. The finger-wagging by the media in particular — and to a certain degree, fans — seems a bit overly self-righteous. The media outlets and fans built up Whitney, and were the first to expose and essentially ridicule her addictions and relationship troubles. Now, all of a sudden, they're playing Pollyanna.
While I appreciate the perspectives on why the photo's publication is just plain wrong, I'm looking instead at the hundreds of fans who commented that the photo actually gave them closure, since they never got the public memorial they so wanted. That's what swayed me.
One reader wrote: "She died as she lived, on stage. There is no harm seeing her dead in her casket. At least it gives her legions of fans closure. You see her there resting and you take away a feeling of peace."
Chimed in another, "What about all of us who were not invited to the funeral? Do all of you naysayers believe we the fans do not need closure also? If it wasn't for the fans there would be no Whitney Houston to the masses."
And let's look at the actual photo: Houston looks amazing — She's lying in a golden casket, wearing purple, and reportedly sporting jewels worth $500,000.
I appreciate the above observation may be irrelevant and far too superficial for some, but that's the diva I know and came to love. And a huge number of fans agree.
On my site, one of the few to publish the photo, one reader commented that, "She looks great! No shame in the pic." Chimed in another: "Nice picture, she looks like she was. What is wrong about this?" And another: "She looks beautiful and at peace…it made me feel better to see it. RIP Whitney, you troubles are over."
So like it or hate it, this photo of a beautiful, restful Whitney gives us closure.
The fans have spoken.
David Caplan is a New York City-based entertainment and celebrity journalist, whose previous positions include Managing Editor of the TMZ offshoot, TooFab.com, Senior Editor at People Magazine and Star Magazine's Deputy New York Bureau Chief. He's also worked at Us Weekly, VH1, WWD and HollywoodLife.com. Currently he runs the Web site GossipDavid.com. A member of The National Academy of Television Arts and Sciences' New York Chapter, he often appears on TV and radio discussing entertainment topics. Follow him on Twitter @DavidCaplanNYC
Have a tip we should know? tips@mediaite.com