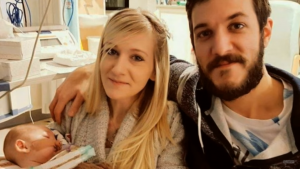 On Monday morning, President Trump tweeted about "little #CharlieGard," which is an unfamiliar name to many Americans.
As it turns out, Charlie Gard is an 10-month-old baby boy in London who is in a fight for his life, legally and physically.
Baby Gard was born with mitochondrial DNA depletion syndrome, which means the body has a sever lack of mitochondrial DNA that is responsible for producing energy. Because of the lack of mitochondria, sufferers do not get energy to their muscles, kidneys and brain. It causes muscle weakness and brain damage and is typically fatal in infancy and early childhood. It is so rare that Charlie is only the 16th person to ever have the condition.
Gard's parents Connie Yates and Chris Gard heard of treatment in the U.S. that might help, and started a GoFundMe account that raised  £1.3 million. to get him there. However, in March the Great Ormond Street Hospital, where baby Charlie is now, wanted to turn his ventilator switch off and allow him "die in dignity."
A British court sided with the hospital. The relentless parents appealed that decision, where again, they lost. Connie and Chris have been buying time ever since. They even sought help from the Britain Supreme Court and the European Court of Human Rights. But in the end, the ventilator was scheduled to be switched off June 30. The parents managed to secure a few more days to say goodbye to their son, which is the window of time baby Charlie is now in.
President Trump follows Pope Francis in offering support. Pope Francis said the parents should "accompany and treat their child until the end."
[image via screengrab]
Have a tip we should know? tips@mediaite.com