Whoopi: Trump 'Should Be on the Watchlist' for Recruiting Against Basic American Values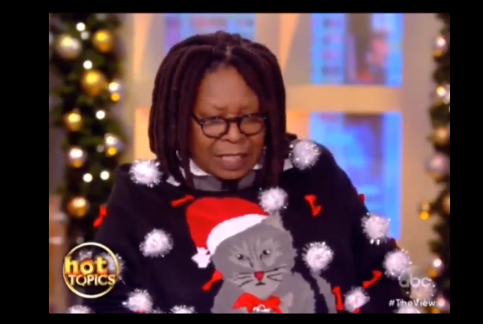 The View host Whoopi Goldberg Wednesday said Donald Trump should face the "consequences" of his hateful rhetoric, suggesting the presidential candidate should be placed on the FBI watch list.
The panel was discussing the recent uproar surrounding Trump's proposed ban on Muslims entering the United States. The suggestion drew sharp criticism from Democrats and measured reactions from Republicans, who largely denounced Trump's proposal but clarified they would still support him if chosen as the party's nominee.
"I have a heads up for Homeland Security," Whoopi said. "Because Donald Trump seems to be recruiting a large group with views that are against basic American values."
Goldberg echoed assertions that Trump's inflammatory rhetoric is a recruiting tool for jihadists, telling the panel "he seems to be doing a great job for ISIS, and I think maybe he should be on the watch list."
Co-host Joy Behar agreed with Goldberg, later adding Trump's "rhetoric is not just free speech to me, a lot of it is hate speech."
"At one point I said that you were kind of funny, you're not funny anymore," Behar said, addressing Trump. "You're not funny. You're not entertaining."
Candace Cameron-Bure, resident conservative on the panel, told the hosts she doesn't think Trump represents the Republican party, suggesting people are moved by the candidate's passion but "not thinking about the consequences."
It's like when you need a drug for an ailment," Cameron-Bure said. "It's really good, you think it's going to help you from the start, but then you forget about all the side effects. You're gonna have diarrhea, and nausea, and vomiting."
"He's bringing out the racism that's inherent in a lot of people," Behar added.
Watch the video above, via ABC.
Have a tip we should know? tips@mediaite.com