The Sarah Palin-hating liberal blogosphere is getting all spun up over some super-pricey 24 karat gold coins featuring everybody's favorite Alaska gubernatorial resignee, with a terrifying likeness of Palin struck in one full ounce of pure goooold! Well, congratulations, libs, you've uncovered the Sarah Palin gold coins scoop four years late, and only after the almost-vice-presidential bling has apparently already been sold out. Fear not, though, Palin-hates. All is not lost.
Lisa Needham, of Wonkette spin-off blog HappyNiceTimePeople, points and laughs at the coins, and implies something sketchy about the promise that a "donation from the sale" will go to the Wounded Warrior Project:
If you know us at all, you know what big fans we are of Sarah Palin. Her folksiness speaks to us. She's just so down home, which is what we love in a Fox News personality/ex-politician/scam artist. You also likely know that we are really really big believers in the gold standard because of our deep love for Ron Paul and our unexplained yet rabid dislike of the Federal Reserve. That's why this 24-karat one ounce gold Sarah Palin coin is so high on our Christmas list:

This 1 oz. gold medallion honors Alaska's Sarah Palin. As Alaska's first woman Governor, she had a reputation of being against "business as usual". She was thrust into the national spotlight when she was chosen to be John McCain's vice presidential running mate. A donation from the sale of these medallions will be made to Wounded Warrior Project, helping seriously injured service members. The price for this 1 oz. pure gold medallion is $400.00 over the market price of gold, please call for quote. Order today before gold rises any further.

Rebecca has pointed out that these are such a bargain at this price that she'd like a ten-pack, which seems totally reasonable. Also, too, we're very fond of the "a donation" language, because it lets us know that we really have no idea how much of the price of this magnificent medallion actually rolls on over to the charity, but given Sarah Palin's solid history of honesty in donating and oh god we cannot even finish typing that sentence even as a joke.
The coins that Needham is referring to, though, appear to have been sold out, at the most-recently-listed price of $2400.00, but the one she pictures is several years old. The coin most recently being sold on the site is the "Sarah Palin 2012 1 oz. Solid Gold Medallion," and looks like this: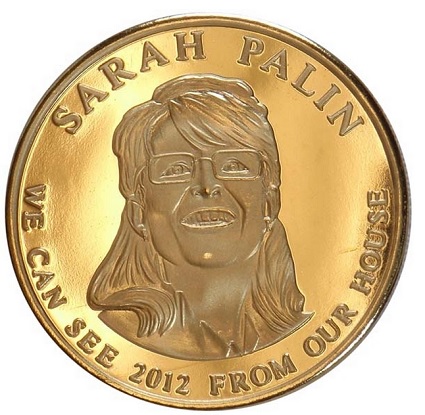 Notice any difference between the 2009 Palin coin and the 2012 model, aside from the clever Tina Fey reference? Well, Sarah Palin from 2009 certainly would. At a November, 2009 speech in Wisconsin, Palin sounded the alarm about a sinister plot to move "In God We Trust" all the way over to the edge of our $1 coins. It turned out that Republicans were the ones who moved it, and that by the time Palin got around to noticing, Democrats had moved it back, but there's more. As you can see, the 2009 Sarah Palin coin has rightly and Christianly positioned the words "In God We Trust" right in the middle of the coin, just above Palin's shoulder. The 2012 coin? It is just gone! Why, Sarah Palin coin? Why have you forsaken us? The reverse side does feature the Pledge of Allegiance, which contains the words "one nation, under God," but it is apparently a God we no longer trust.
As for Needham's unsavory implication about the charitable donation, enterprising lib sleuths might be tempted to point out that Alaska Mint's owners are not listed anywhere on the Wounded Warrior Project's most recent donor recognition report, but they could've been one of the anonymous donors, and besides, there are rules about these "portion of the proceeds" deals, and they don't include claiming a donation:
In most of the sales in which the seller says that a portion of the proceeds will go to charity, the sale is at fair market value for the products or services being sold. In that case, there is no direct gift from the purchaser to the charity, although the seller uses the charitable pitch to increase the volume of sales. A purchaser may claim a charitable contribution deduction only when the payment exceeds the value of the goods or services received in return.
However, according to Alaska state law, anyone soliciting donations for charity, including "making a statement that all or part of the sale proceeds will be used for a charitable purpose or benefit a charitable organization," must register with the state, and keep a contract on file detailing the arrangement. Although the Alaska Mint isn't listed on the state's registry, they might just be behind in updating the thing. Stupid big government!
For you Palin fans out there, don't worry. There is still a vast array of Sarah Palin coinage available to you, ranging in price up to $279.99. Or you could just donate the money to the Wounded Warrior Project.
Have a tip we should know? tips@mediaite.com