Why Does CNN Keep Portraying These Two Former NH State Reps as Everyday Trump Voters?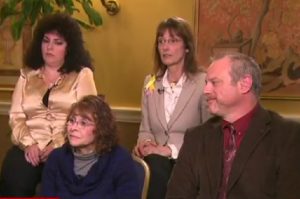 A CNN video segment getting a lot of play today features Alisyn Camerota revisiting with some Donald Trump supporters now that he has won the election. This was a call back to a panel discussion a year ago, featuring five of the same Trump voters from that forum.
Obviously, what will make this one get much play on CNN over the next few days, as well as online, will be the moments where two Trump supporters claim that millions of illegal immigrants voted in California. They also claimed that you could look on Facebook and Google to find out that President Barack Obama told people to vote illegally. While Camerota tried to convince them it wasn't true, they insisted they had heard all of this from the media. (Camerota spoke to Mediaite not long ago about how she prides herself on these panels.)
Now, the two women responsible for this exchange with the CNN host — Susan DeLemus and Paula Johnson — are more than just passionate Trump voters who CNN talked to last year. They are both veteran politicians in New Hampshire you were selected as delegates by the Trump campaign and have been featured in the news, and on CNN, over the past year and a half.
The two claiming Obama said illegal immigrants could vote are former NH state reps Paula Johnson and Susan DeLemus. https://t.co/bg6bG0tT3k

— Josh Rogers (@joshrogersNHPR) December 1, 2016
Trump supporter falsely argues that millions of people voted illegally with no evidence on CNN's @NewDay https://t.co/6lqMSTJNuj

— Eugene Scott (@Eugene_Scott) December 1, 2016
The December 2015 forum that this one was a revisit of featured a viral moment where DeLemus went nuts defending Trump's positions and policies, gesturing wildly and claiming that she had only suddenly become interested in politics because of him. Of course, that wasn't likely true, considering that DeLemus was a member of the New Hampshire legislature, having been elected in 2010 and gaining notoriety in 2011 for sponsoring a birther bill in her state regarding Obama.
It appears DeLemus lost her most recent re-election bid, however.
Unofficial: 23 NH House incumbents lost Tues., 14 GOP, nine Dems including Rochester Rep. Susan DeLemus, wife of Jerry DeLemus. #nhpolitics

— Kevin Landrigan (@KlandriganUL) November 9, 2016
However, this wasn't the first time she, or Johnson, was featured in a forum by CNN. Back in July 2015, Camerota talked to Trump supporters only a month after Trump had tossed his hat into the ring. At that time, both Johnson and DeLemus spoke up about Trump's comments about John McCain not being a war hero.
"Don't forget McCain insulted the 'crazies,' which is a blanket insult," Susan DeLemus said.

And Paula Johnson pointed out that some of Trump's supporters are also, veterans.
That panel also featured DeLemus's husband, Gerald DeLemus. He would make the news earlier this year when he was named an alternate delegate for Trump to the RNC (along with his wife) despite having just been indicted regarding the 2014 Bundy standoff in Nevada. (Gerald DeLemus was also the co-chair of Veterans for Trump.)
Susan DeLemus would also make the news this year on her own when she declared on Facebook that Pope Francis was the Anti-Christ. This was after the Pope criticized Donald Trump desire to build a wall. She would later explain that she was referring to the papacy itself and, since she isn't Catholic, she doesn't feel he is infallible.
Johnson, outside of appearing in these three CNN forums, is also no stranger to CNN. She appeared for an interview on the network in September 2015 the quickly went off the rails. Billed as the co-chair of Women for Trump, Johnson spent the majority of the interview attacking the host and other guest while vehemently defending everything regarding Trump.
Johnson served in the New Hampshire House of Representatives from 2004 to 2006 and was chosen as a delegate by the Trump campaign to the RNC.
Now, it is understandable that CNN wanted to do a 'catching up with' segment with Trump voters to see their feelings today. It can make for informative, interesting and entertaining television. But, it feels somewhat misleading and kinda underhanded for the network to present DeLemus and Johnson as merely Donald Trump supporters.
These two women were intimately involved with the campaign from pretty much the beginning. Both are political veterans. They also sought out the media spotlight and were given it by CNN itself, largely on the basis of acting in an unhinged manner.
To present them in the way CNN has done seems to be a dereliction of duty by a news organization. Viewers are left with the impression that these two women are representative of your run-of-the-mill Trump voting base. When, in reality, they are both people who have sought out the limelight, and received said limelight from CNN.
Watch a portion of the most recent forum above, via CNN.
[image via screengrab]
–
Follow Justin Baragona on Twitter: @justinbaragona
This is an opinion piece. The views expressed in this article are those of just the author.