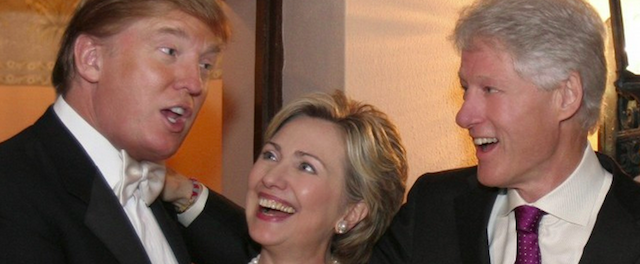 Back in May, before he officially became America's favorite presidential candidate, Donald Trump offered up an unexpected defense of ABC News' George Stephanopoulos, who was being hammered from all sides for failing to disclose his hefty donations to the Clinton Foundation. "I look forward to participating in any debate that George Stephanopoulos is moderating," Trump said in a statement that came a bit too late. By that point, the Good Morning America and This Week host had already recused himself.
Trump's decision to stand by Stephanopoulos was less surprising once his name popped up on the Clinton Foundation website. He had given between $100,000 and $250,000 to the foundation while his daughter Ivanka Trump has donated between $5,001 and $10,000.
Now, as Trump's business partners like NBC, Univision, ESPN, Macy's and several more have run for the hills over the past few weeks citing his inflammatory remarks about Mexican "rapists," conservatives have begun to wonder aloud when the Clinton Foundation will be returning his donations.
After all, Hillary Clinton has vocally condemned his comments, telling CNN's Brianna Keilar on Wednesday that she's "very disappointed" in her one-time friend.
Conservative websites like The Daily Caller and Newsmax have accused Hillary Clinton of hypocrisy for criticizing Trump while her family's foundation holds onto his donations.
Republican strategist — and Trump critic — Ana Navarro tweeted:
Has Clinton Foundation given back the $$ Trump gave them? Didn't think so. Trump gave at least $100k to Clinton Fndtn http://t.co/iBSJdrNc5z

— Ana Navarro (@ananavarro) July 3, 2015
But while it is easy to argue that Trump's offensive rhetoric reflects poorly on his media partners, why should a charitable organization be forced to send money back to a donor just because he happens to be an enormous jerk?
When Politico reached out the Clinton Foundation for comment, Chief Communications Officer Craig Minassian provided this generic statement in response:
"We're grateful to our more than 300,000 donors from across the political spectrum whose support has allowed us to efficiently and effectively fight HIV/AIDS and childhood obesity, increase opportunity for girls and women, lift people out of poverty, combat climate change and has improved the lives of millions of people all over the world."
In other words, the foundation has no plans to return Trump's donations no matter what he says.
In the case of Stephanopoulos, conservatives worried that because he had demonstrated financial support for the Clinton Foundation, he could not objectively cover Hillary Clinton's presidential campaign (let alone the fact that he worked in the Bill Clinton White House). But what conflict of interest do Trump's donations create for Hillary Clinton? Is the right worried she won't attack him as hard as she would had he not made his donations? So far, there has been no evidence of that. And Trump is just as willing to hit her back.
Another current presidential candidate who has received donations from Trump is Sen. Lindsey Graham (R-SC). Asked if he plans to send the $2,600 back Trump's way, Graham said this week, "I'm going to keep the money and condemn him, condemn his actions."
What Graham, and likely Hillary Clinton, understands, is that it's entirely possible to both disagree with someone and take their money. And in Clinton's case, the donation in question went to her foundation, not her presidential campaign.
Someone else who understands the nuance here is Bill Clinton, who had this to say about Trump when he visited The Daily Show last month: "He has been, believe it or not, uncommonly nice to Hillary and me."
"He thought Hillary was a good senator from New York after 9/11," Clinton continued. "And he's one of the many Republicans who supported our foundation before they got the memo."
The bottom line is: If Trump had no problem giving money to the Clinton Foundation, they should have no problem keeping it.
[Photo via Maring Photography]
— —
>> Follow Matt Wilstein (@TheMattWilstein) on Twitter
Have a tip we should know? tips@mediaite.com