Watch This Kentucky Clerk Refuse to Issue Marriage License to Same-Sex Couple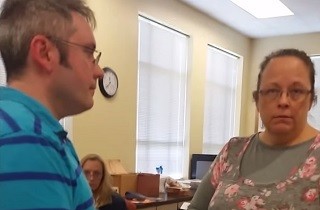 Despite the Supreme Court ruling that declared same-sex marriage legal in all fifty states, some people are still not on board with equality for all. Unfortunately, some of those people are in the position to issue — or not issue — marriage licenses. One such person is Kentucky's Rowan County Clerk Kim Davis, who was caught on video refusing to issue a same-sex couple of 17 years a marriage license because she was "worried about her own soul."
David Ermold and his long-time partner David L. Moore had alerted the office at the end of June that they would be coming in to obtain their license in the county where they make their home and pay taxes, but they never heard back. When they went to the office in person this past Monday, they were met with an experience that has since gone viral. A friend filmed the couple on her phone being ignored by the office staff and eventually denied their license. The video, which is on YouTube, currently has over a million views. By the end of the video, after they are finally seen after being passed over for people who arrived after them, the couple speak to a different employee who says the office was "not issuing any licenses" and that they supported Davis' religious beliefs "as a Christian" to refuse.
Which is a real problem, because Ms. Davis works for the local government, and she is legally obligated to issue that license. If she was not a public but a private employee, we might be able to say she's being a jerk, but she would still have the right to refuse.
But again, Ms. Davis works for a government that legally allows same-sex marriage. So she is breaking the law. Here is the full video:
[h/t ABC News]
This is an opinion piece. The views expressed in this article are those of just the author.