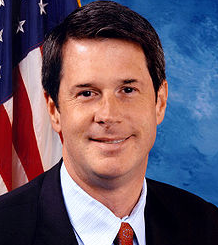 Political scandals these days are coming so fast and furious they are weirdly setting the bar higher for what constitutes a career-ending mishap (notwithstanding badly thought-out interviews with Rolling Stone). Sen. David Vitter (R-LA) has already survived one brush with scandal after it was revealed in 2007 that he has once frequented a prostitute, and chances are he will survive this latest round if only because the story will likely get buried underneath McChrystal's visit to the Oval Office today. That's not to say it's not an awful story. It is. From ABC News:
A longtime aide to Louisiana Sen. David Vitter, who has been assigned by the senator to oversee women's issues, pleaded guilty in 2008 to charges stemming from a knife-wielding altercation with an ex-girlfriend.

The aide, Brent Furer, has had repeated brushes with the law dating back to the 1990s, an ABC News investigation has found. Yet Furer has continued to receive his taxpayer-financed senate staff salary in Washington, even as court records show he remains wanted on an open warrant in Baton Rouge stemming from an unresolved misdemeanor DWI charge.

[…]

"It says something terrible about Senator Vitter's judgment that this is the kind of guy he wants to keep in his office," said Sloan, who first alerted ABC News to the assault case. "The people of Louisiana should be asking, 'What does this guy do for Senator Vitter to keep him around?'"
Perhaps not surprisingly, when contacted for comment Furer said he was "too swamped" with Gulf issues to talk. The story is apparently a big scoop for ABC News, though one wonders if they shouldn't have held off for one day in the hopes that they could better penetrate the McChrystal cycle.
Updated: Furer has now resigned.
Have a tip we should know? tips@mediaite.com