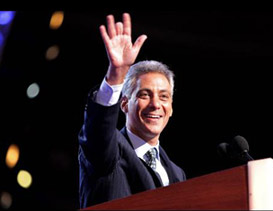 Rahm Emanuel has officially left the White House to officially prepare to run for Mayor of Chicago — and Tablet's Rachel Shteir officially thinks he doesn't have a hope in hell. Put differently, she thinks that a Jew has about as much a chance of getting elected in Chicago as 8-day old baby Shlomo has of keeping his foreskin.
Emanuel doesn't stand a chance here because, as one longtime Chicagoan put it to me recently, he is "too Jewish" in a city that has never had a Jewish mayor and a state that has never had a Jewish attorney general, state senator, or U.S. senator, despite having the fifth-largest Jewish population of any U.S. city, according to the World Jewish Congress.

"He has a potty mouth," another bystander put it, basically repeating the sentiment.

I grew up on the East Coast, but I've lived in Chicago for 10 years—as long as I lived in New York as an adult—and by now I am all too acquainted with this sort of thinking. Emanuel's brash public persona, which in New York and Washington is synonymous with the allegedly Jewish qualities of ambition, striving, and aggression—all desirable qualities, or at least ones that get you talked about on Sunday morning news shows—does not play in the power corridors here.

Chicago might be rough and tumble, but where Jews are concerned the most racially and ethnically segregated city in the nation prefers repressed politesse, a country-club attitude more pre-Civil Rights than post-racial.
In a word: Oy. Are Rahm's chances really that dim? Could he really have made such a gamble, based on such an error in judgment? Well, so far he's slipped up on the hand sanitizer thing and the D.C.-shot video wherein he kvelled about how he was "glad to be home" (oy again), so who can tell? Shtier points out that the Jews of Chicago number just 2% of the population, and cites a few examples of anti-Semitism in the city's political history. But hey, it's 2010 and Rahm is no dummy. No doubt he pow-wowed with that other Chicago-bred Obama power-Jew, David Axelrod, and decided that it was worth the plunge. Or maybe he just saw a dude named Barack Hussein Obama get elected President of the United States and thought, well damn, I guess that means anything can happen.
In the meantime, best of luck to you, Rahm! Maybe if you need help, you can enlist who Tablet calls "The World's Most Powerful Jew" to help you out. I speak, of course, of Mark Zuckerberg. Actually, upon reflection, you two seem to have rather a lot in common. At least according to promos I've seen for that movie. I can see Rahm delivering that deposition bit rather convincingly.
Related:
Out of the Loop [Tablet]
The World's Most Powerful Jew [Tablet]
Rahm Emanuel's 'Welcome Back To Chicago' Not Especially Smooth [Mediaite]
p.s. I look forward to when I can brag about this picture of me with the future first Jewish mayor of Chicago!
Have a tip we should know? tips@mediaite.com