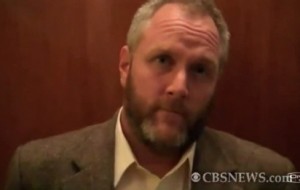 Following a recent appearance on Fox News' Redeye, Shira Lazarscored an impromptu flipcam interview with Andrew Breitbart. While the bulk of the interview featured Breitbart disappointingly swallowing James O'Keefe's dubious "explanation" of the "CNN Caper," the hidden gem of this exchange is in the final minutes. Breitbart recounts for Lazar how CNN cut a portion of his inaugural appearance on Parker & Spitzer because the mainstream media doesn't want you to know the real reason Shirley Sherrod was fired.

While not surprising, Breitbart's wholesale purchase of O'Keefe's explanation is disappointing. Boudreau has produced several O'Keefe emails that corroborate the "CNN Caper" document, but O'Keefe offers nothing to support his claim that he rejected the plan. Breitbart seems all too willing to suspend his famous skepticism where his protege´ is concerned.
In the last few minutes of this clip, however, Breitbart dives back into the Shirley Sherrod controversy, explaining the real reason Sherrod was fired from the USDA, suggesting that she was part of a fairly corrupt scheme:

Part 1:




Part2:



Breitbart  is correct when he says that many Pigford claimants have "never seen a piece of farmland," but that's because the USDA discriminated against them!
The Pigford case is a class action lawsuit that was brought by black farmers after the USDA admitted it had been discriminating against black farmers for years. In essence, Clinton Secretary of Agriculture Dan Glickman said, "Hey, all you black farmers out there, remember when we denied you that loan? It was because you're black."
Black farmers, naturally, were like, "Oh, well, that's messed up. I could've saved/purchased my own farm with that loan. Pay me."
Shirley Sherrod was the leader of a group of farmers called New Communities, Inc., who were collectively awarded $13 million for the loss of 6,000 acres of land due to USDA's racial discrimination, and Sherrod was awarded $150,000, as was her husband Charles. Sherrod's work on behalf of black farmers in this case is precisely why she was hired by Vilsack, to help "turn the corner" on decades of discriminatory practices.
Track A of the Pigford settlement was structured so that a fixed payment of $50,000 would be awarded to any black farmer who could prove that he:
owned or leased, or attempted to own or lease, farm land, applied for a specific credit transaction at a USDA county office during the applicable period
the loan was denied, provided late, approved for a lesser amount than requested, encumbered by restrictive conditions, or USDA failed to provide appropriate loan service, and such treatment was less favorable than that accorded specifically identified, similarly situated white farmers.
the USDA's treatment of the loan application led to economic damage.
Anyone who wanted to seek a larger amount would use "Track B," which had an even stricter burden of proof.
Critics of Pigford, such as right-wing radio host Ben Shapiro and Rep. Steve King (R-Iowa) cite purely anecdotal evidence to assert that 75-90% of Pigford settlement payouts are fraudulent, lazy blacks who are gaming the system at the behest of their greedy pastors, but had to be paid out anyway. The truth is that only 15,640 (69%) Track A claims were approved, versus 6,910 (31%) denied.
Furthermore, tens of thousands of farmers never even had their claims considered because they missed the deadline, due in part to what even the judge called incompetent legal counsel for the claimants. An additional $1.15 billion settlement was reached for these claimants, but the funds have not been appropriated yet.
It is these so-called "Pigford 2" cases to which Breitbart refers, and whether you agree with the Pigford settlement or not, it is just silly to claim that there is some effort to keep it secret. At the height of the Sherrod scandal, with all eyes on him, Secretary of Agriculture Tom Vilsack extensively referenced Sherrod's involvement with Pigford during a nationally televised press conference. Just last week, Vilsack released the following statement, urging Congress to fund the settlement: (via email)
WASHINGTON, Sept. 29, 2010 – Agriculture Secretary Tom Vilsack today released the following statement on the need for Congressional action to fund the Pigford II settlement agreement:

"Black farmers throughout the country unfortunately faced discrimination in past decades when trying to obtain services from USDA. This discrimination is well-documented, the courts have affirmed this discrimination, and Congress has twice acknowledged the need to settle with those who have suffered from this discrimination. It is now time for Congress to pass the funding so the victims of this discrimination can get the opportunity to receive the compensation that they are due.

"While members of Congress have noted the bipartisan support for this legislation, it is time for Congress to turn their support into action and fund the settlement agreement once and for all. The time for Congressional action to fund the settlement agreement is running out, and the victims of this discrimination should not need to wait a day longer. Congress should not leave today without exhausting every option for passing legislation that provides for the funding."
Breitbart is correct to note that funding Pigford is a tough sale, politically, but it has been for quite some time, and that's certainly no secret. That is not to say that Pigford won't be a bigger story going forward. If the Republicans manage to wrest control of the House from the Democrats in November, this will be high on their list of endless investigations.
Have a tip we should know? tips@mediaite.com