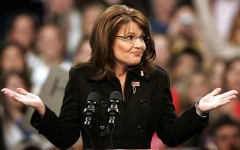 While the GOP lurches from here to there trying to settle on both an identity and a leader they can reasonably place their hopes (and cash) on for 2012 it looks like their most popular member may be toying with a whole other sort of going rogue: third party candidacy.
WaPo's Chris Cillizza pulled this little nugget from a Friday afternoon interview Palin gave to radio talk show host Lars Larson in which Palin doesn't flat out reject the idea of a third party candidacy — in this news cycle that's practically the same embracing it. From The Fix:
Asked by Larson whether she would consider running as a third party candidate, Palin said: "That depends on how things go in the next couple of years." Larson told the 2008 vice presidential nominee that answer "sounds like a yes" to which she responded: "If the Republican party gets back to that [conservative] base, I think our party is going to be stronger and there's not going to be a need for a third party, but I'll play that by ear in these coming months, coming years." Which, to the Fix's delicate ears, sounds like Palin leaving the door wide open.
On the one hand this sounds absolutely crazy. Also, the 2012 election season is still two years away, which considering how much the tone has changed in Washington in the last nine months is a lifetime. On the other hand, as Cillizza (and others) have pointed out, there is little to zero chance that Palin will actually get the official GOP nod. However, a third party run could give her exactly the sort of stage she clearly wants, as well as the ability to seriously affect the 2012 election season, and at the end of the day none of the responsibility of governing. So on second thought, maybe not all that crazy.
Have a tip we should know? tips@mediaite.com