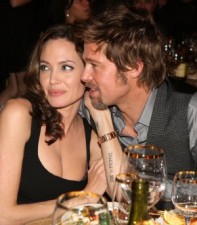 We've lived in a constant state of worry and fear, but now the day has finally arrived: Brad Pitt and Angelina Jolie are splitting. (Maybe.) News of the World is reporting that the Biggest Celebrity Couple of All-Time© has signed the paperwork (they were never married) to share custody of their six children and split their gigantic pile of money. So while the internet is burning up with speculation (Gossip Cop is still investigating), confirmation and denials (Perez Hilton has an official one), the mainstream media is probably preparing for a celeb invasion.
It's an unavoidable media query: At what level of fame does a celebrity couple's breakup become legitimately newsworthy? Ever?
The questionable report provides a few details about the time frame of the agreement, as well as teasing an imminent announcement from the stars:
The agreement gives them joint custody of the kids – but all six will actually live full-time with their mum.

Preparations for a split began in early December when "Brangelina" visited a top Los Angeles divorce firm to begin thrashing out the deal.

An announcement of their separation is expected to be made soon – ending months of speculation that the five-year relationship is on the rocks.

A source told the News of the World: "The document was signed in early January. Both Brad and Angelina had signed it.
To be sure, if we were to listen every time the tabloids said this pair was irrevocably broken, there would have been days worth of tears prior to this weekend's heart-wrenching announcement, and yet now feels about right. They've had half of a solid decade together and haven't sparked the interest they used to, with both stars softening as they age and in their role as parents. But it does beg the question, if not now then when the couple really does break up, how will the mainstream media justify its coverage?
Doubtlessly there will be coverage. Perez's phone will be ringing off the hook as the cable networks scramble to book celebrity "experts" (some will settle for Julia Allison) and for a few days, we'll grapple together, as a nation, with the loss of the Brangelina touchstone of romance. At this point, the speculation is a tad premature — the networks can't cite News of the World — but at first sight of a confirmation it will be off to the races.
Classier joints, like the the New York Times, will carefully sculpt think-piece articles about the Larger Cultural Significance of Brad and Angelina, or maybe even on the celebrity reporting surrounding the couple. The celebrity weeklies, meanwhile, are already scrambling for their new covers, either confirming or denying the split.
Sure to frustrate many serious news consumers, it's only a matter of time. So brace yourselves, because in a time of war, economic crises and natural disaster, this is still bound to rule a news cycle. Or two.
UPDATE: Mediaite editor-at-large Rachel Sklar had an insightful reaction to these questions, recalling an easily applicable media precedent to Brad and Angelina's break up — Brad Pitt's own divorce from Jennifer Aniston. Perhaps most memorable from that blast of celebrity coverage was Kent Brownridge of Wenner Media, publisher of US Weekly saying that "for a celebrity weekly, this is our tsunami."
Have a tip we should know? tips@mediaite.com