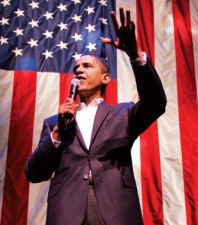 Acknowledging the omen of last Tuesday's special election in Massachusetts, President Obama and his team are repositioning themselves publicly in order to showcase the president's "feisty side," White House senior adviser David Axelrod told Politico. He was quick to note, though, that there will be "no reinventing" despite Washington's desire for "a shakeup or human sacrifice."
Call it what you will, but isn't a new public strategy a form of reinvention?
"There's a sense of impatience and frustration about the state of the economy, but also about the nature of how Washington works," Alexrod is quoting as saying in Mike Allen's Politico Playbook. "That was true in 2008, and it's true now. The president is as determined to deal with those things now as he was then."
On Massachusetts, Alexrod was aware, but not panicked, as seems to be the administration's overall line: "It just reminded us that we've got to be at the top of our game," he said, reiterating, "There's no reinventing any message here. It's a reaffirmation of a message."
The new push to reaffirm the message of this president was perhaps teased yesterday, when we noted Obama's strong words for the Supreme Court in the wake of their decision on campaign finance, a ruling Obama called "devastating," vowing to right their wrongs. As noted by Playbook, Obama "road-tested his message" at a Friday town hall in Ohio "when he said 20 times that he will fight for average Americans."
The new push will be especially pronounced in the media today and through the first days of the week as the administration preps the press — and massages the narrative — in the lead-up to Wednesday's State of the Union address. With a fire lit underneath them, and an apparently cohesive strategy, this week may signal a turnaround for Obama after a few too many rough news cycles and as the 2010 midterm elections approach.
Have a tip we should know? [email protected]