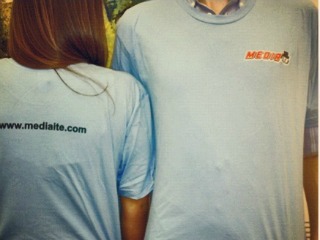 We already know that you love Mediaite as a place to get your daily (or, you know, hourly) fix of breaking news, insightful commentary, recaps, videos, and the occasional dirty pun, and we'd like to show you just how much we love you back!
We're giving away six Mediaite T-shirts (2 small, 2 medium and 2 in large) to six of our lucky readers.
How can you win? Why, it's easier falling into an ill-advised affair on the Hill!
Step 1
Simply follow @Mediaite on Twitter. We made it easy for you, click here:
Follow @Mediaite

Step 2
Choose your size, and Tweet the message below.
LARGE Mediaite T-Shirt:
Tweet

MEDIUM Mediaite T-Shirt:
Tweet

SMALL Mediaite T-Shirt:
Tweet

Winners will be chosen at random; the contest ends on Friday, 6/29.
Remeber, you must Tweet the exact message above, and be following @mediaite (We will Direct Message the winner)!
Good luck!
Have a tip we should know? tips@mediaite.com