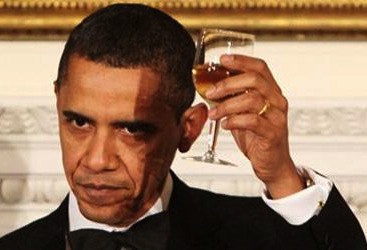 Tonight, the White House will showcase French-inspired American wines at its state dinner honoring Francois Hollande, the President of France. Normally, state dinners can be very, very expensive (this one alone costs an estimated half a million dollaz), but apparently, according to the Washington Examiner, the three wines at this dinner are "Costco cheap," costing a grand total of $125. "The president might get off with a bar tab of just $4,000," the paper speculated.

While this move should fend off the budget hawks looking for reasons to make Marie Antoinette comparisons — the Administration's caught flak for purchasing bottles listed at $399 at previous state dinners — the wine choice has angered at least one group: wine bloggers.
"Given the White House policy of only serving American wines, they really should showcase the best of what America is making, irrespective of price," writes wine snob/actual NYU professor Dr. Vino. "Sure, State Dinners are expensive, but has anyone taken a look at the Department of Defense budget and procurement lately? Fine wine at a state dinner is the equivalent of a few toilet seats and wrenches at the DoD."
In the White House's defense, the wines are apparently well-rated. The Examiner writes:
All come with highly favorable reviews. The Morlet "La Proportion Doree" 2011, $45, gets 95 of 100 points. The Washington state Chester – Kidder Red Blend 2009, $49.99, won 92 points. And the go-to dessert wine from Monticello, Va., Washington Thibaut-Janisson "Blanc de Chardonnay," is $30 and rates well.
"But typically," they added, "the main red comes in at a bigger price, especially when the French are in town."
Laugh all you want, but wine choices are apparently a huge deal when it comes to Franco-US diplomatic relations. Dylan Byers, who is not a wine blogger, notes that the French "still hold their wine in far higher regard than that of the New World, [and] Tuesday night's selection is an effort to demonstrate to the French president, once again, that American wines can hold their own."
Le cheap wines may make that le impossible. Oh well, at least they're not serving their meal in pretentious terrariums.
>> Follow Tina Nguyen (@Tina_Nguyen) on Twitter
Have a tip we should know? [email protected]