Winning 101? University Launches Entire Course Focused on Trump's Rise in American Politics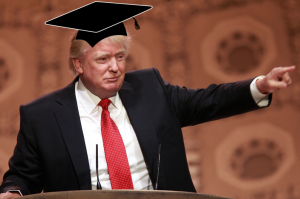 Many people have joked that Donald Trump's unprecedented rise in American politics would completely rewrite the way that our political system was taught in classrooms. After all, who need kissing babies and electoral college strategy when retweets gone awry and manhood comparisons win nominations these days?
Students at Savannah State University in Georgia will begin a course titled "The Trump Factor in American Politics," this week as part of the school's summer curriculum. The course will reportedly focus on the unorthodox rise of the real estate mogul to capture the Republican party nomination en route to a general election battle for the White House.
In the three-credit course, students, "…will study Trump's biography, read excerpts from his best-seller 'The Art of the Deal,' dissect some of his more controversial proposals and delve into how Trump became the presumed Republican nominee," according to the Associated Press.
Professor Robert Smith indicated that his decision to teach the class stemmed from conversations with students in his American Government courses during the Spring semester. Professor Smith noted that the conversations, "…inspired important discussions and other connections to understanding American electoral politics."
"My Dean and Chair and colleagues have all been supportive of advancing a class that looks at this development in American politics (positives and negatives)," Professor Smith continued.
Savannah State University, founded in 1890, is a historically black college, so the move to host a Trump-focused course may seen unusual. Smith admits that many of the students in his previous courses have not been overly enthused with the rise of the controversial frontrunner, saying, "Certainly my students were not fans of Trump's. I think that's probably fair to say across the board."
"I think what students will be discovering is there are some of elements about Donald Trump that will be surprising," said Smith.
[h/t The College Fix]
—
J.D. Durkin (@jiveDurkey) is an editorial producer and columnist at Mediaite.
[image via Flickr]
Have a tip we should know? tips@mediaite.com