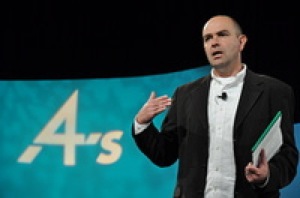 At the American Association of Advertising Agencies' Transformation Conference in San Francisco yesterday, Wired Editor-in-Chief Chris Anderson addressed the crowd and waxed lyrically about the possibilities for the currently troubled magazine industry via Apple's iPad (and other tablet platforms.) And while industry leaders are quick to hail the new technology as the savior, Anderson sounded suspiciously mired in the print world, claiming that online versions of magazines lacked the "coherence and majesty" of their print versions. Where to begin?
Writing for Mediaweek, Jim Cooper reports:
Wired staffers have been working to create a tablet version of the title for six months, with the goal of having it ready in May.

"We've been looking for a way to do it better, and the good news is that I think we found it," said Anderson.

Presently, online versions of magazines lose "the coherence and majesty of the [printed] medium," said Anderson. Tablets, on the other hand, offer impressive functionality, such as 360-degree views and iPhone-like screen sliding, plus collapsing and layering — all of which make the user experience vastly more compelling than the Web, he said.

Additionally, the success of the iPhone, Kindle and the emergence of cloud computing have paved the way for devices that are less powerful and lighter with a longer battery life than standard laptops, Anderson said. The iPad is just such a device, and it will sell millions of units in its first month and tens of millions in the following months and years, he predicted.

"It will take less than 10 years for it to become mainstream," he said.

Also revolutionary from an editorial and design perspective is that magazine staffers — now editing for print and the Web in separate work flows — will be able to edit for print and tablets simultaneously.
It is true that the new tablet format affords magazine publishers opportunities never before seen — but it may be little presumptuous to concur that the skill set necessary to produce a terrific magazine will convey to itself to a brand new medium. In other words, seeing the tablet as a digital version of a print magazine — as many seem to already be doing — is missing the forest through the trees.
Having a digital platform allows for many, many features that, until now, were impossible on paper: instantaneous updates in terms of both copy and imagery; rich media such as audio and video; and providing readers the real-time and unedited opportunity for feedback and interaction are all features afforded magazines with this new technology. To be fair, that already exists — I hear the kids are calling it the "World Wide Web."
The question that publishers should be asking themselves regarding the iPad, and other tablet platforms, is not "how do we put our magazine on this device?" It should be "how can we best replicate the brand experience of our title, using the full suite of technological advances afforded by this new platform?" Follow up questions would include notions that would have previously been considered bizarre, like "What does our magazine sound like?" and "How many video advertisements is too much next this block of type?" (Because video stimulation hits the lizard part of the brain much quicker than the most well crafted and moving essay ever will.) It's sad, but true.
But what of the business model of magazines in this new world order?
From the same Mediaweek article:
Anderson predicted that these devices will move past the CPM model to become the most measurable medium ever.

"The tablet will be measuring what you did on a page, what engaged you," he said. Marketers will know "what entices people to put their fingers on the screen" — and the layered functionality seen in the editorial product will also be part of the advertising, he added.

As for readership, Anderson said that tablet renderings of traditional magazines will draw consumers who weren't magazine readers before.
Not sure Internet publishers are going to automatically concur with that model. Consider that the soft science of print advertising allows for generously self-reported circulation and demographic statistics that leads to six-figure ad buys. The hyper-comprehensive method by which digital advertisers can track eyeballs and actions has been a boon for those with the purse strings – not, in fact publishers.
Anderson is absolutely correct in having great hope for the new iPad technology, and he recognizes that there are far more questions than answers at this point. Perhaps he said it best when he claimed that we are at least 10 years away from truly seeing how this all shakes out. And his evangelism should be celebrated by the tens of thousands employed by magazine publishers; he is out there providing thought leadership and a vision in an industry that has been sorely lacking in both. Even if what he's selling does feel a bit like vaporware.
Have a tip we should know? tips@mediaite.com