It's Friday, and Sarah Palin and Piers Morgan are fighting on Facebook and Twitter. It all started with a late morning Facebook post from Palin, "politely" declining Morgan's many "invitations" to appear on his CNN show with a particularly terrifying hunting photo bearing the words: "Piers: Kind of Busy right now."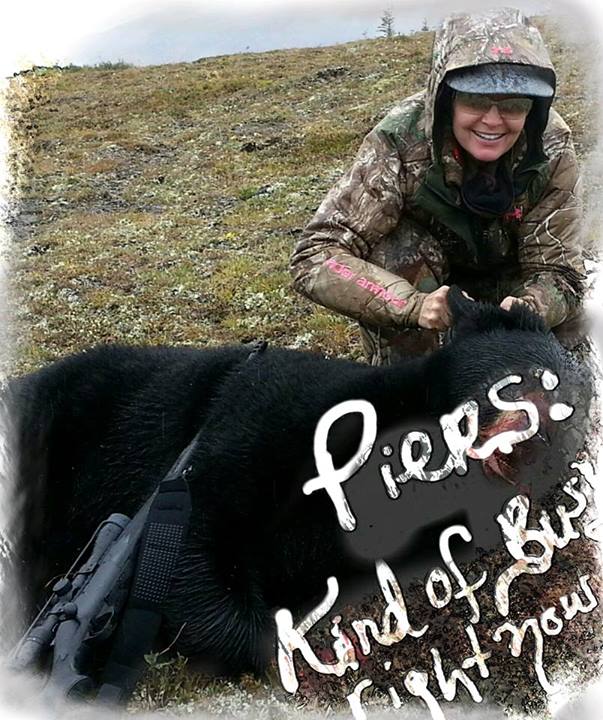 Below the photo, she left this note explaining that she's too busy doing "pretty much anything" else to appear on Piers Morgan Live:
Oh dear Piers, thank you so much for all your invitations to appear on your shambolic show, including the adoring message you sent. But is it still any wonder why I've politely responded that I'm too busy doing, um, er… pretty much anything to accept the invite? (At least I didn't tell you to "get stuffed".) And to all our British friends: we ask, what did your friends across the pond ever do to you to deserve your Piers?
It appears Palin may have been provoked by some tweets earlier in the week from Morgan pointed to a satirical article about her from the Daily Currant.
Morgan himself was quick to respond to the provocation on his Twitter account with a succession of tweets that mocked Palin's infamous Paul Revere gaffe, re-extended the open invitation and asked her if she can "see irony from her house."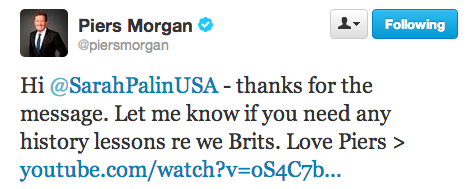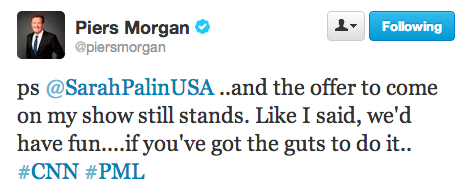 If these two did end up on television together any time soon, it would likely be a coup for Morgan who could use the ratings help. Here's hoping this is all a ploy to hype an upcoming showdown on CNN.
[images via Facebook/Twitter]
— —
>> Follow Matt Wilstein (@TheMattWilstein) on Twitter
Have a tip we should know? tips@mediaite.com