Yahoo Reportedly Fought Against NSA's PRISM Program In 2008 (And Lost) Before Joining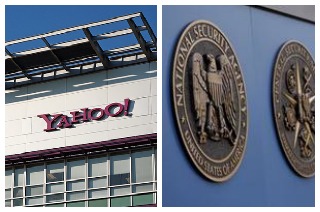 Among the recent revelations about the NSA was the PRISM program, which tech companies have denied participating in. According to a New York Times report, one of those companies, Yahoo, fought back in 2008 against the government requests on the grounds that it would be unconstitutional — but failed. Thus, the company became part of the program.
"The government had sought help in spying on certain foreign users, without a warrant, and Yahoo had refused, saying the broad requests were unconstitutional," the report said. The judges didn't side with the company, leaving Yahoo with two choices: "Hand over the data or break the law."
Yahoo argued the requests violated users' Fourth Amendment rights, but that concern was deemed "overblown":
"Notwithstanding the parade of horribles trotted out by the petitioner, it has presented no evidence of any actual harm, any egregious risk of error, or any broad potential for abuse," the court said, adding that the government's "efforts to protect national security should not be frustrated by the courts."
The report was based on a heavily redacted court order — and the decision "has had lasting repercussions for the dozens of companies that store troves of their users' personal information and receive these national security requests — it puts them on notice that they need not even try to test their legality."
(The companies reportedly involved in PRISM include Microsoft, Yahoo, Google, Facebook, PalTalk, AOL, Skype, YouTube, Apple.)
After news of the program broke last week, Google, Apple, and Facebook denied giving the government access to information. Yahoo issued a statement deeming the allegations "categorically false."
Read the full report here.
Have a tip we should know? tips@mediaite.com