Yer Sunday Morning Hate Read: Oblivious Rich Couple Celebrates Clothing Line, 'Africa'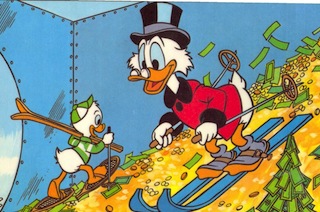 The New York Times remains your one-stop shop for oblivious aristocrats gleefully detailing the filigrees of their privilege, and Sunday morning's entry is an instant classic in the genre.
The style section's profile of Matthew Mellon and Nicole Hanley Mellon, a married couple collaborating on a clothing line in which each piece costs what you take home in a month, has everything from divorcees who attend weddings at Diane von Furstenberg's Bahamas mansion to children named "Force" and dogs named after clothing labels to, wait for it, the Winklevoss twins.
But the money quotes come near the end:
"I've never been to Africa, but I feel like I have this deep affinity for it," Ms. Hanley Mellon said. "I've read every Hemingway, we collect Peter Beard, I've watched 'Out of Africa.' It touches your soul to visit and smell the smells, and you can't recreate the experience without immersing yourself."
And this:
Of course, being mobile has many connotations in the age of new media, which Mr. Mellon feels ambivalent about. "In the old days you'd have to travel to India or China for inspiration, and these days you've just got Pinterest boards and you can create looks from home," he said. He does have an Instagram account, asliceofmellon, despite believing that "technology has made us lazy."

But Mr. Mellon is an unabashed fan of embracing new technologies, including Bitcoin, which the company accepts as payment and to which he was introduced by the venture capitalists Cameron and Tyler Winklevoss.
Yes, those two paragraphs appeared in sequence. This is officially as close as life has ever come to being a Christopher Guest movie.
Read the full article here.
[h/t New York Times]
[Image via screengrab]
——
>> Follow Evan McMurry (@evanmcmurry) on Twitter
Have a tip we should know? tips@mediaite.com