You Guys, Trump Says He Totally Meant Arming Guards Instead of Orlando Nightclubbers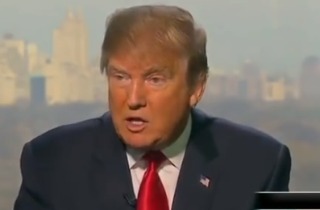 It was three days ago when Donald Trump said it would've been a "beautiful sight" if there were enough armed clubgoers to stop the Orlando Shooting gunman last Sunday. According to today's Trump Twitter feed however, it looks like he meant to say something a little bit different.
Ever since the attack that left 49 dead at Pulse gay night club last Sunday, Trump has used the shooting as the latest example for why his mantra of "only a good guy with a gun can stop a bad guy with a gun," is completely right. That being said, the tweet he issued today holds a slight adjustment in implications from what he's been saying all week:
When I said that if, within the Orlando club, you had some people with guns, I was obviously talking about additional guards or employees

— Donald J. Trump (@realDonaldTrump) June 20, 2016
It does bear mention that Pulse nightclub had an armed security officer on hand last Sunday, but he was outgunned by the terrorist's heavy-duty weapons and needed to call for police backup. The timing of Trump's tweet is also interesting, considering the fact that NRA executive director Chris Cox gave an interview yesterday where he said that, "No one thinks that people should go into a nightclub drinking and carrying firearms. That defies common sense. It also defies the law."
Then again, even with the NRA's early endorsement, Trump has never been the most gung-ho Republican candidate ever when it comes to firearms.
[Image via screengrab]
— —
>> Follow Ken Meyer (@KenMeyer91) on Twitter
Have a tip we should know? tips@mediaite.com