'You Have Many Skeletons in Your Closet (&Office)': Hannity Continues Feud With Scarborough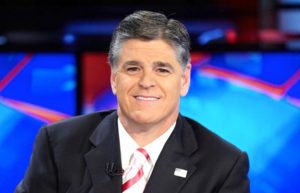 The feud between Fox News' Sean Hannity and MSNBC's Joe Scarborough continued tonight, after Scarborough took to Morning Joe earlier this week to smack Hannity over his since-deleted tweet in which he accidentally expressed agreement with a tweet that said "make Russia great again."
While stating that journalists should show skepticism of intelligence reports claiming Russia meddled in the election and push for more evidence, Scarborough said it's "not like we are Sean Hannity going out tweeting 'God bless Russia' or whatever he tweeted yesterday." MJ co-host Mika Brzezinski warned Scarborough to "get ready" for the inevitable response from Hannity.
Well, that reaction finally occurred this evening, when the Fox News host took to Twitter to deliver this personal dig at Joe.
Joe, Played your repulsive fawning bromance comments about OBAMA on radio today. You, Mika & OBAMA, very adorable. https://t.co/TYVInL0CCJ

— Sean Hannity (@seanhannity) January 12, 2017
Hey Joe do u really want to focus on my twitter error that I apologized for?You have many skeletons in your closet (&office) wanna go there? https://t.co/TYVInL0CCJ

— Sean Hannity (@seanhannity) January 12, 2017
Yes, Hannity is indeed referencing the story of the dead intern found in Scarborough's district office when he was still a Congressman in 2001. While there is absolutely no evidence Scarborough had anything to do with the office worker's death, as it was found that she died from heart problems and hitting her head on a desk, conspiracy theories were tossed around claiming Joe was responsible and that's why he resigned from Congress.
Earlier this month, Hannity went after Scarborough on Twitter for Joe's comments about Sean's "bromance" with WikiLeaks' founder Julian Assange.
[image via screengrab]
–
Follow Justin Baragona on Twitter: @justinbaragona
Have a tip we should know? tips@mediaite.com