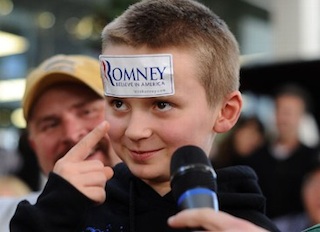 While President Obama crushed John McCain 68 percent to 32 percent among young voters in 2008, should he start getting worried about millennials turning their backs on him in 2012?
According to a new poll by the Public Religion Research Institute and the Georgetown University's Berkley Center for Religion, Peace and World Affairs, Obama only holds a paltry seven point lead over a generic Republican candidate.
In 2008, Obama won the millennial vote 68 percent to 32 percent over John McCain. However, among current college-age millennial voters, Barack Obama only holds a seven point lead over a generic Republican candidate.
The majority of millennials (76 percent) cite jobs and unemployment as the critical issue facing the country.
45 percent of millennials identify as independents, which is 13 points higher than the general population.
This poll also only surveyed those between the ages of 18 and 24, which probably pushed its results leftward. It is quite likely that millennials between the ages of 24 and 30 would have appeared even more receptive to conservative economic policy, since they have suffered from the vicissitudes of the current job market that the younger half of the generation has not yet endured.
In March, Romney slammed Obama's monopoly over younger voters, saying "I don't see how anyone who is a young person could vote for a Democrat, I'm going to be honest with you."
"They're going to pay the interest. They're going to pay the principle for years. This is a campaign to make sure that we save the future for our young people, and hopefully, as they focus on this election and as it comes closer to the general election, they'll recognize what's at stake."
The National Review's Nathaniel Botwinick observed that with younger voters becoming more supportive of abortion rights and gay marriage, Republicans should focus primarily on "economic issues in order to secure the millennial vote."
Read the full report here in PDF form.
Have a tip we should know? tips@mediaite.com