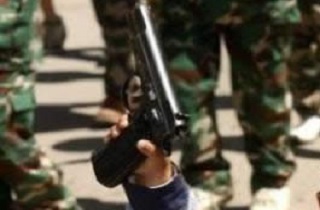 The recent shooting death of two year-old Caroline Sparks has focused attention on the issue of children's access to guns, but as it happens, Caroline's accidental shooting by her 5 year-old brother is far from an isolated incident. In the month of April, there were at least nine "toddler-involved shootings," as independent journalist Rania Khalek calls them. Gun owners may think to themselves, "Well, thank God I keep my guns locked up," and non-gun-owners may think, "Thank God I don't have any guns in my house," but both groups might be surprised to learn that their overconfidence is unfounded.
In addition to Caroline Sparks' tragic killing, Khalek documents eleven other April shootings involving children (including eight more shootings involving toddlers) in the month of April. They include:
A three year-old who shot himself in the thumb with a gun he found tucked under a bed at his father's girlfriend's house.
The 4 year-old who shot and killed his aunt in a room full of adults, including a sheriff's deputy who was also a school resource officer.
The two year-old who shot his mother, Rekia Kid, in the stomach as she held her weeks-old infant.
Brandon Holt, the New Jersey 6 year-old who was shot and killed by a 4 year-old playmate, at a range of about 45 feet.
Georgia 3-year-old Qui'ontrez Moss, who shot and killed himself while visiting his uncle in South Carolina. Moss shot himself in the head with a gun belonging to the uncle, James Patrick.
Seven year-old Gavin Brummett, who accidentally shot and killed himself while shooting with his father and brother on their property in Kansas.
Nine year-old Shayla May Shonneker, who was accidentally shot in the face and killed by her mother's boyfriend. Joseph Wolters was practicing his draw when the gun went off.
A six year-old Kansas girl who was accidentally shot by her 14 year-old cousin.
A South Carolina 2 year-old who pulled a gun out of his father's jacked and accidentally shot himself in the chest.
The Idaho 3 year-old who shot a ten month-old in the face while both were left unattended in a car.
The four year-old son of Antonia O'Brien, who was shot in the leg by his 10 year-old sibling.
These stories each have their unique circumstances, but the one thing they all have in common is that the young shooters all gained access to guns that they shouldn't have. Well, they have one other thing in common: we now know about them.
May is off to a quick start for child shootings, as well. Last Wednesday, 3 year-old Darrien Nez shot and killed himself, and on Saturday, 6 year-old Angela Divin was shot in the chest by her older brother. The news article about the latter shooting, submitted by a Mediaite reader, contained a disturbing statistic (emphasis mine):
According to the Children's Defense Fund, one-third of all households with children younger than 18 have a gun, and more than 40 percent of gun-owning households with children store their guns unlocked.

The fund also reported that 22 percent of children with gun-owning parents handled guns in their homes without their parents' knowledge.
I've always thought it stood to reason that, for every tragedy in which a child gains access to a gun, there must also be many more instances where kids play with guns, and the parents never even know about it. I just never knew how many. That's one in five.
The Children's Defense Fund gets that statistic from a 2006 study conducted at an Alabama family practice clinic (emphasis mine):
Of 420 parent-child dyads, 314 agreed to participate; 201 of the 314 homes contained guns. Children younger than 10 years were as likely as older children to report knowing the storage location (73% vs 79%, respectively) and to report having handled a household gun (36% vs 36%, respectively). Thirty-nine percent of parents who reported that their children did not know the storage location of household guns and 22% of parents who reported that their children had never handled a household gun were contradicted by their children's reports. Such discordance between parent and child reports was unrelated to whether parents stored their firearms locked away or had ever discussed firearm safety with their children.

CONCLUSIONS:
Many parents who were living in homes with firearms and who reported that their children had never handled firearms in their homes were contradicted by their children's self-reports. Parents who locked their guns away and discussed gun safety with their children were as likely to be contradicted as parents who did not take such safety measures.
It's probably a stretch to apply that exact stat to the general gun-owning population, but until better data is available, it's impossible to ignore this finding, which not only means your own guns might not be safe from your kids, but even non-gun-owner's kids aren't safe when they're at someone else's house (or even near it, as Brandon Holt's story demonstrates). Even if you do everything right, or decide not to even own a gun, your kids might already have handled guns without your knowledge.
As it happens, pediatricians agree on the best way to manage the risk of firearms to children:
The best way to keep your children safe from injury or death from guns is to NEVER have a gun in the home.

Do not purchase a gun, especially a handgun.

Remove all guns present in the home.

Talk to your children about the dangers of guns, and tell them to stay away from guns.

Find out if there are guns in the homes where your children play. If so, talk to the adults in the house about the dangers of guns to their families.
This would seem to be the natural place to begin the conversation, but the current gun culture, as defined by mainstream pundits, begin and end it with 5 year-olds owning their own guns.
Have a tip we should know? tips@mediaite.com