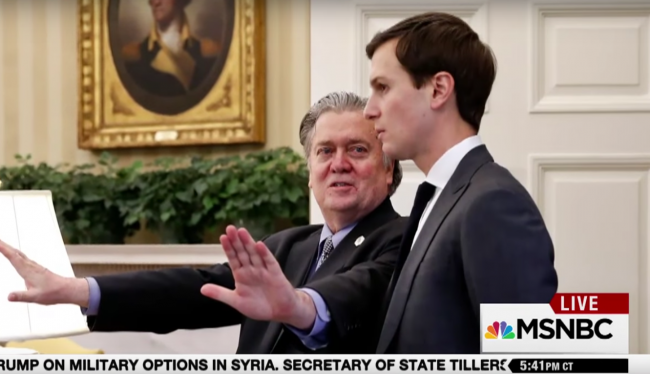 Tense relations between Steve Bannon and Jared Kushner in the White House appear to have completely blown up.
Thursday's report that Bannon calls Kushner (arguably racially charged) names behind his back was bad enough, but a New York Times story later that day suggests that face to face dealings have further deteriorated, as well.
According to the Times report, Bannon fixated on what he thought was the reason that they couldn't come to a detente: "Here's the reason there's no middle ground," he "growled" according the Times. "You're a Democrat."
In the Times piece, the basic narrative is that Trump is being pulled in both directions, with Kushner seemingly having the advantage right now because he's gained power at Bannon's expense. There's also this telling line: "As he did throughout his career in business and entertainment, Mr. Trump plays advisers off one another, encouraging a sort of free-for-all competition for influence and ideas within his circle, so long as everyone demonstrates loyalty to him."
Trump applying the "run the country like a business" platform has been taken perhaps more literally than expected, up to and including him signing off on executive orders he hadn't read, the same way executives sign documents pre-approved by corporate lawyers.
"This president's method of managing is by him personally curating points of views from a diverse group of people in whom he has some trust and credibility," Trump's friend Thomas Barrack Jr. told the Times. "And he very rarely accepts one course of action or one suggestion without laundering it amongst all of them. And what happens in that process is confusion amongst those from whom he's seeking advice. What works for him is that, out of that milieu, his instincts take him to the right answer."
[Image: Screengrab]
Have a tip we should know? tips@mediaite.com