YouTube's Paid Streaming Service Announces Its First Original Show, 'Step Up'
One great thing about living in 2016 is access to almost any movie or show at any time. Old-school video rental places could never offer that no matter how hard they tried. When you search for a movie online now, in fact, you get a whole bunch of options for how to watch it immediately.
In honor of Stacey Dash, who is having a good day today as she talks about Britain's decision to leave the European Union today on Fox News, let's demonstrate what this looks like using Clueless: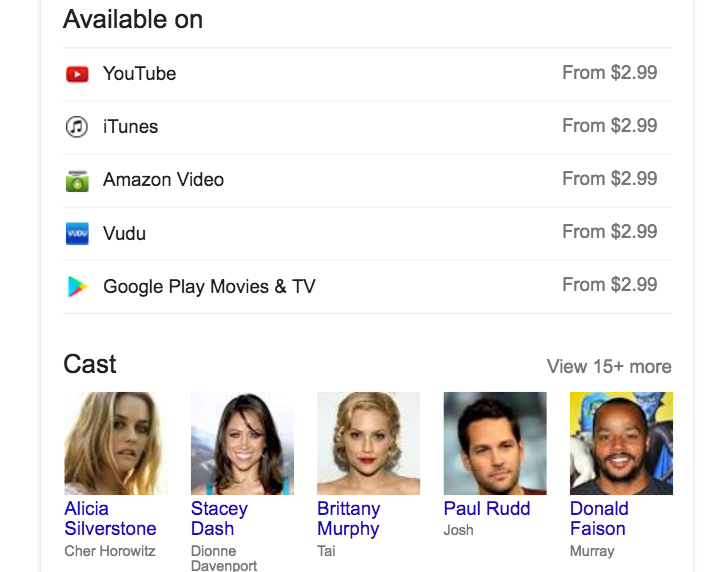 See, right there in the informational pane provided by Google, movie-watchers can see that Google Play, Vudu, Amazon, iTunes, and yes, YouTube offer immediate streaming. If YouTube seem weirdly out of place there to you, it shouldn't. Streaming is wildly profitable because of its convenience and YouTube has been facing ire over users' uploads of copyrighted material for years. Their decision to begin offering paid streaming of entertainment makes perfect sense, even if it isn't exactly cohesive with the "free for all" model they've operated on for so long.
The only thing that the paid streaming service, YouTube Red, has been missing since its inception, though, is original content. Red offers users ad-free videos and music streaming for $10 a month, but has no original programming. Amazon's streaming service has original shows. Hulu does, too. Oh, yeah, and Netflix is basically resetting the gold standard for what original programming should look like, streaming or not. To stay competitive, YouTube Red doesn't even have a choice about what it needs to do.
The good news for the company, then, is that they've finally decided to go ahead with an original show and they've chosen an already-successful jumping off point: Step Up. Yeah, they're creating an original show based on the oh-so-popular dance movies, according to the New York Times.
The movies have brought in more than $650 million at box offices nationwide. Lionsgate, the company behind the films, is giving YouTube Red ten episodes, each of which will be 45 minutes long. Staying true to what made them a household name in the first place, YouTube will be bringing in vloggers who made names for themselves on the platform to dance and act in the show.
Oh, and finally, Channing Tatum, whose career as a professionally hot guy/actor was launched by the original movie, will be executive producing the as-yet-untitled project.
[image via screengrab]
For more from Lindsey, try Twitter or Facebook.
Have a tip we should know? tips@mediaite.com