Zuckerberg, Bloomberg And 14 Other Billionaires Pledge To Donate Majority Of Their Fortunes To Charity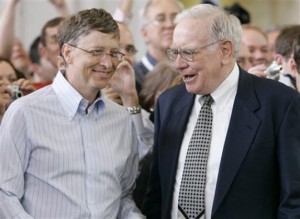 Mark Zuckerberg, Michael Bloomberg, George Lucas, and a baker's dozen of other American billionaires are really taking this whole "season of giving" thing seriously. The Wall Street Journal reports that 16 tycoons have just signed on to the "Giving Pledge," thereby vowing to donate most of their wealth to worthy causes.
The Pledge, which was formally announced in June of this year, is the brainchild of two other moguls: Bill Gates and Warren Buffet. Its goal is to encourage tycoons to engage in philanthropy earlier in life than their predecessors. As the WSJ's Robert A. Guth and Geoffrey A. Fowler write, the Pledge is also partially the result of Buffett's dislike of "dynastic wealth":
Mr. Buffett over the years has schooled Mr. Gates on philanthropy, giving him a copy of "The Gospel of Wealth," in which steel tycoon Andrew Carnegie argued that fortunes were often wasted by heirs and thus should be put to charitable use.

Starting last year, Mr. Gates, his wife Melinda Gates, Mr. Buffett and other wealthy individuals hosted a series of dinners for billionaires to discuss setting up the pledge. That led to an announcement in June of the pledge and its earliest signers.

Since then, Mr. Gates, Ms. Gates and Mr. Buffett have been calling on billionaires to get their commitment. The pledge doesn't ask for specific donations, nor does it track giving; rather, it asks that a pledge maker commit to giving away the majority of their wealth.

That proposition at times has been a tough sell, the pledge founders said. "People are super nice to us, but there is a certain awkwardness because it's a big decision," Mr. Gates said in an interview this week. "Sometimes the wife and the husband have never really talked through their priorities on the charity stuff."
Altogether, over 50 bigwigs have taken the Pledge. Read their names and learn more about their philanthropy at the organization's official website.
Have a tip we should know? tips@mediaite.com