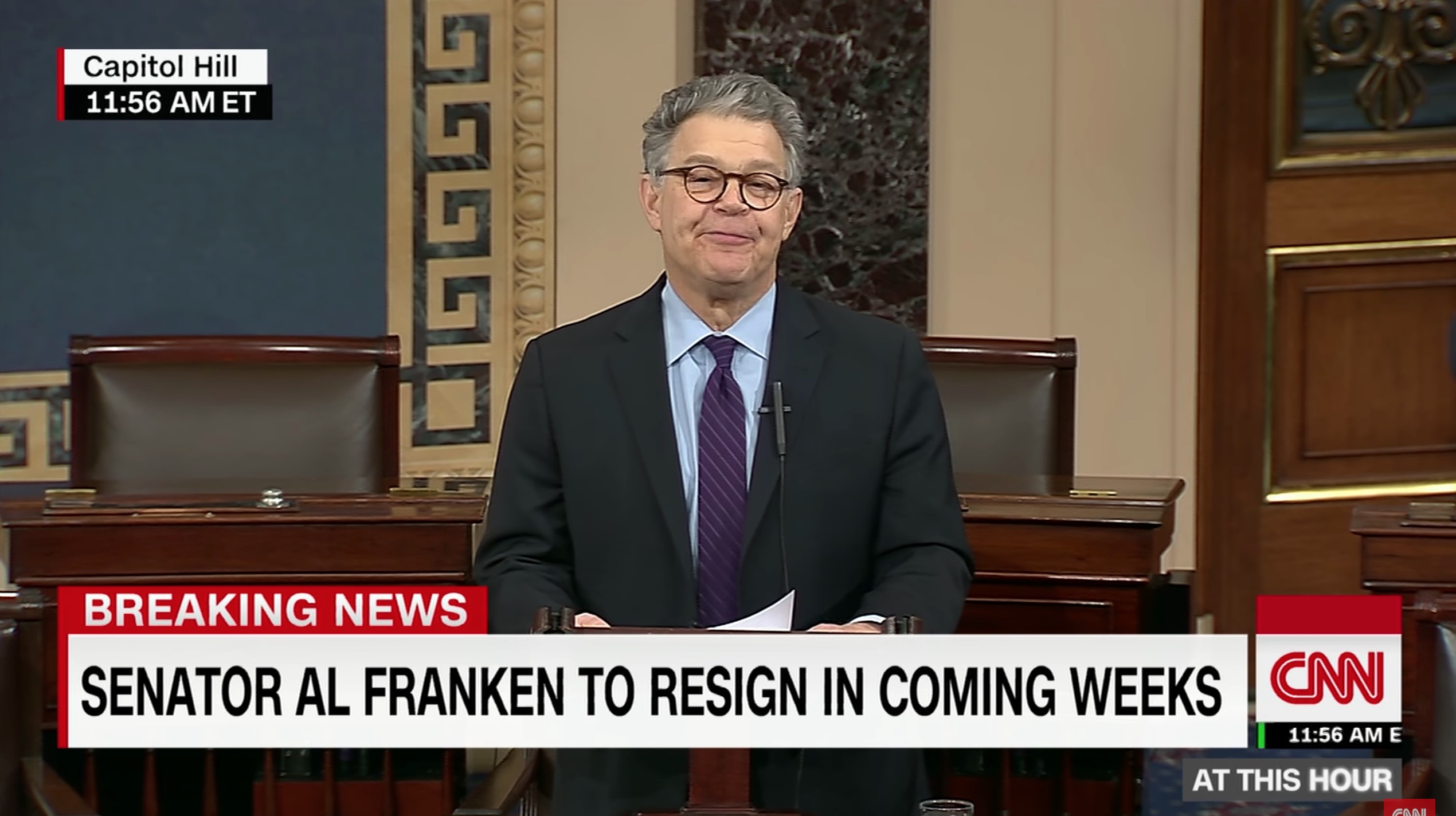 Al Franken resigned (sort of) from the U.S. Senate today. His shocking demise came about as a result of accusations against him, about which I have written extensively and of which, despite having no affinity for Franken, I am more suspect than ever, especially after his emotional speech on the Senate floor.
There are so many significant and mind-blowing aspects of Franken's political death that there needs to be a list created for the historical record. Here is my attempt to do that:
– His initial, and by far the most critical accuser, Leeann Tweeden, was able to have her story fully accepted by the news media, without a hint of vetting, because she posted it on the website of her new radio station, an outlet with almost literally no ratings, or legitimate news operation.
– Her connections to Sean Hannity, Roger Stone's tweet foreshadowing her announcement, and her own radio station admitting they strategized the best way to make the story go viral, were never fully analyzed.
– The media, presumably out of fear of "victim shaming" never even mentioned that prior to starting her brand-new career as a "news anchor," that Tweeden was a nude model, which goes to the context of why she was on the 2006 USO tour, her lack of presumed journalistic credibility, and her willingness to do almost anything for attention/money.
– It was never reported in any major outlet, except my column in USA Today, that Tweeden attended a 2009 USO event specifically to honor Franken and that they were captured on film there joking around with each other in a candid moment. Similarly, it was never reported that in 2011, on the 5th anniversary of her USO trip with Franken, she nostalgically tweeted a photo of the two of them together from the night in question.
– It was never reported that there is compelling evidence that the infamous photo of Franken appearing to mock grope Tweeden while she was dressed in multiple heavy layers was taken on the way to the USO event and not on the way back, as Tweeden had stated.
– That of the six accusers making allegations of clear sexual harassment which trickled out in the aftermath of the Tweeden firestorm, only two did so in their own name and, despite the fact that the events allegedly happened while being photographed with Franken, neither picture remotely provided evidence of what was alleged.
– The final accusation, made in The Atlantic yesterday, alleged that, at a party eight years ago, Franken grabbed the woman's WAIST while being photographed (the picture was a headshot of her looking thrilled). Somehow this allegation was treated as further proof that Franken is a serial groper, rather than as a "hugger" who might have miscalculated a couple of times out of the thousands of similar photos that he has taken with women over the years.
– Not one Republican called on Franken to resign, but dozens of his fellow Democrats did, all so that they could cynically grab the moral high ground in an effort use this general issue as a weapon during the 2018 campaign.
– That, just as Franken acknowledged in his resignation speech, his biggest strategic mistake was treating his accusers with respect and offering an apology for their hurt feelings, rather than strongly declaring his innocence. This allowed people (especially within the media) to presume he was admitting guilt, thus giving any further allegations instant weight while disarming him of any ability to effectively defend himself.
– Meanwhile, after using search and destroy tactics to survive actual campaigns, Donald Trump is the president of the United States, and it appears Roy Moore might be soon joining the body from which Franken is resigning.
– Earlier this year, Franken's questioning of now Attorney General Jeff Sessions appeared to expose Sessions to charges of perjury with regard to his Russia contacts. There was a time when it looked for sure that Sessions would be forced out and Franken was poised to be a major contender for the 2020 Democratic presidential nomination. Who knew that taking super tight photos years ago with women who asked you to do so (and smiled widely while it happened) was a "crime" greater than lying to Congress in a way consistent with the cover-up of election collusion with Russia?!
In my view, Al Franken is a mostly, if not totally, an innocent man who was railroaded because of a perfect storm of circumstances which included a hysterical media environment, his own naïveté, and his own party's thirst to use his destruction for their political gain.
Aren't politics great?
John Ziegler hosts a weekly podcast focusing on news media issues and is documentary filmmaker. You can follow him on Twitter at @ZigManFreud  or email him at johnz@mediaite.com
This is an opinion piece. The views expressed in this article are those of just the author.