'Move the F*cking Motion': Speaker McCarthy Joins the Political Profanity Hall of Fame
Being a politician is stressful work, and Speaker of the House Kevin McCarthy (R-CA) knows this all too well. So, we really can't blame him for letting an f-bomb slip behind closed doors, even though someone would be bound to leak that kind of thing to the press. (Which many immediately did.) But considering our current President Potty Mouth Joe Biden, McCarthy has no reason to be ashamed. Of course, politicians curse. They run the fucking country. That's a lot of pressure, and since drinking on the job is frowned upon, they're gonna curse. Could you imagine a seasoned firefighter looking at a massive inferno and saying, "Oh my stars?" Of course not. You wouldn't say that either.
Biden and McCarthy were not the first, nor shall they be the last politicians to drop the "fuck" word or other obscene zingers while in service to these United States of America. Here are some of the greatest hits that have been recorded in recent American history:
President Joe Biden
This list can't start until we mention one of the biggest fucking deals in recent history: then-Vice President Joe Biden telling former President Barack Obama that the passage of the Affordable Care Act in 2010 was a "big fucking deal." Caught on a hot mic, it was celebratory profanity, which is even more fun to say than a steam-releasing, frustration-motivated profanity. Obama even returned the sentiment when President Biden passed the Inflation Reduction Act last year.
Now that he's president, it's probably safe to assume that Biden curses even more and has more opportunities to get caught cursing in public and subsequently go viral. Biden could go down as one of the cursiest presidents in history. And for that, I salute him.
Rep. Derrick Van Orden (R-WI)
Just this summer, Rep. Derrick Van Orden (R-WI) added himself to these storied ranks when he screamed at a group of teenaged Senate pages to "get the fuck out" of the Capitol rotunda. This occurred on a late July night after Van Orden held a "beer and cheese event" for constituents, which left his office littered with alcohol bottles. Witnesses recounted that Van Orden, a former Navy Seal, unleashed a torrent of curses at the teenagers, saying: "Wake the fuck up you little shits. What the fuck are you all doing? Get the fuck out of here. You are defiling the place," and: "I don't give a fuck who you are. I'm a congressman. My name is Derrick Van Orden, and I represent the 3rd District of Wisconsin."
Interesting that Van Orden yelled at these kids for "defiling" the Capitol when he was in attendance during the January 6 insurrection in the same exact location. But who's even keeping track of these things (besides millions of people who can read and do basic math like 1 + 1 = you're a hypocrite)?
President Donald Trump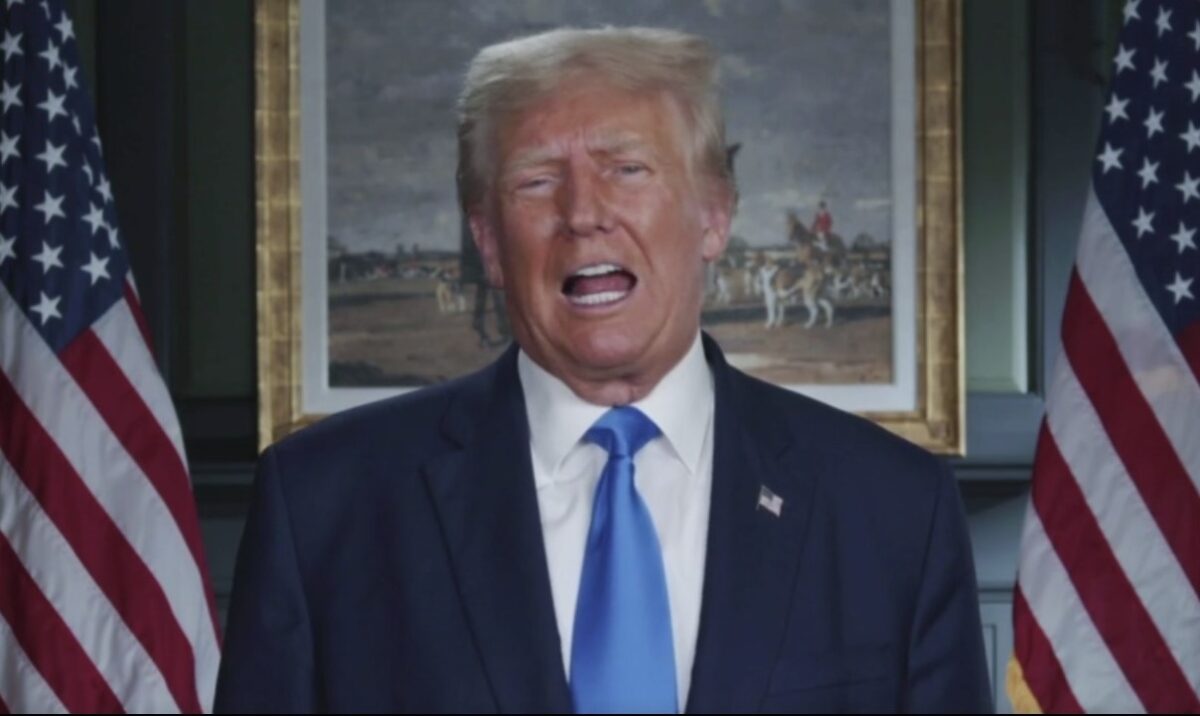 The twice-impeached, quadruple-indicted former president was raised in Queens, New York, and as bridge-and-tunnel trash myself, we curse a lot. Obscenity is Trump's native tongue, so there are too many examples to list here, and the racist, misogynistic language is not really related to him being a politician. He's just always been like that.
Rep. Eric Swalwell (D-CA)
A regular foe of McCarthy, Swalwell has been a vulgarity-laced thorn in the speaker's side for months. Every time McCarthy placates to the fringiest members of the GOP, Swalwell whips out the swears. And, as McCarthy made headlines by swearing behind closed doors, a similar situation occurred when McCarthy confronted Swalwell outside a men's room days after the speaker led a censure vote against Rep. Adam Schiff (D-CA). On the House floor, Swalwell and McCarthy stared each other down after Swalwell told McCarthy: "This is pathetic. You're weak. You're a weak man." When McCarthy confronted him later, he told Swalwell: "If you ever say something like that to me again, I'm gonna kick the shit out of you," adding, "Call me a pussy again and I'll kick your ass." Which led to Swalwell's response: "You. Are. A. Pussy."
Rep. Marjorie Taylor Greene (R-GA)
MTG is known for being bombastic, outrageous, and gratuitously inappropriate while the House is in session. During the testimony of the IRS whistleblowers, Greene displayed uncensored, enlarged photos from Hunter Biden's private laptop that were only meant for intimate company and had little to do with what the IRS was looking into. But before that, Greene flipped out on her Freedom Caucus colleague Rep. Lauren Boebert (R-CO) for apparently copying her Biden impeachment articles, calling her "a little bitch" on the House floor. It wasn't on a mic, she wasn't addressing Congress. But it was definitely an unprofessional curse made while at work. And it made for the absolute best moment in congressional journalism by CNN's intrepid reporter Manu Raju.
Sen. Kirsten Gillibrand (D-NY)
Back in 2017, the junior senator from New York unleashed a few fuck words while speaking at the Popular Democracy Forum at New York University. While the words weren't on the floor of the Senate, they were plentiful and made in the name of bipartisanship, so I'm counting them as officially part of her senatorial duties. On Trump, she said: "We must resist and push back on every horrible thing this president is trying to do. Fundamentally, if we are not helping people, we should go the fuck home." She added of Trump, "Has he kept his promises? No. Fuck no."
Similarly, Gillibrand told New York Magazine the same year about her mission to work with Senate Republicans to find common ground: "I know [Sen. Susan Collins's (R-ME)] worldview is similar to my worldview, which is that we're here to help people, and if we're not helping people, we should go the fuck home." And on passing a bipartisan 9/11 health bill: "I first went to my female colleagues and said, 'How do I do this? I have no fucking clue.'" Feels valid.
President Barack Obama
While Obama admitted that he curses quite a bit in private, maybe he's just more able to watch his language while the cameras are rolling. But no one is perfect, and Obama was caught on camera in 2009 calling Kanye "Ye" West a "jackass" for interrupting Taylor Swift during the VMAS. Although "jackass" is a word my grandmother uses, so this is a tame example. And in 2010, using another tame-but-edgy-for-a-president word, he told NBC's The Today Show in an interview after the BP oil spill: "I don't sit around just talking to experts because this is a college seminar. We talk to these folks because they potentially have the best answers, so I know whose ass to kick."
Sen. John McCain (R-AZ)
The two-time presidential candidate, war hero, and Senate legend had a reputation for being feisty, but it reached a head on the Senate floor in 2007 when he showed up late to a meeting on immigration at the southern border. Sen. John Cornyn (R-TX) chastised McCain for his tardiness and McCain swatted back with a cordial, "Fuck you. I know more about this than anyone else in the room." It was moments like this that seem almost precious now, but in the year 2007, it raised questions about McCain's "temperament" when he was running for the highest office in the land. Adorable.
McCain was also reported to have said "Fuck it" when it came down to choosing Sarah Palin as his running mate in 2008. Which feels like his way of saying, "You betcha!"
Before McCain died in 2018, he drafted a farewell statement that was released after his death. Some saw it as a veiled "fuck you" to then-President Trump, who had somehow become president instead of John McCain.
Vice President Dick Cheney
The vice president serves as the president of the U.S. Senate, which means paying a visit to the Senate floor from time to time and cursing at a U.S. Senator. That's precisely what Cheney did to former Sen. Patrick Leahy (D-VT) in 2004 after taking a nice photo, the reason Cheney was present in the first place. Leahy approached Cheney, Cheney told Leahy to "go fuck himself." Why? Leahy had long been a critic of Cheney's association with Halliburton and had suggested that Cheney was profiting off the Iraq War while serving as former President George W. Bush's VP. An old CNN article points out that cursing on the Senate floor while it's in session is against the rules, but "the Senate was not technically in session at the time." At least he didn't shoot him in the face.
This is truly just the tip of the iceberg because the advent of the internet, sleeker recording devices, and the communication contagion of virality has made the regular practice of political profanity much more visible. And ever since Trump entered the political stage on his tacky golden escalator, politicians have taken that as a cue to loosen formalities and lean into crassness. Or, in the case of post-Trump Democrats, the only socially acceptable way to express their frustration.
But let me leave you with a couple of crass but classic (crassic?) honorable mentions.
President Lyndon B. Johnson ordering some bespoke pants from Joe Haggar: "Now the pockets, when you sit down, everything falls out, your money, your knife, everything, so I need at least another inch in the pockets. And another thing — the crotch, down where your nuts hang — is always a little too tight, so when you make them up, give me an inch that I can let out there, uh, because they cut me, it's just like riding a wire fence. These are almost, these are the best I've had anywhere in the United States. … But, uh when I gain a little weight they cut me under there. So, leave me… you never do have much of margin there. See if you can't leave me an inch from where the zipper [burps] ends, round, under my, back to my bunghole, so I can let it out there if I need to."
President Andrew Jackson, as recorded by his African grey parrot, whose name was Poll, also had a mouth like a truck driver even though trucks had not been invented when he was alive. But when he died in 1845, a grieving Poll was in attendance at the seventh president's funeral and had to be escorted out when he unleashed a string of curses he had apparently learned from Jackson while he was still alive. The Rev. William Menefee Norment presided over the funeral and recounted:
Before the sermon and while the crowd was gathering, a wicked parrot that was a household pet, got excited and commenced swearing so loud and long as to disturb the people and had to be carried from the house.
Andrew Jackson's Hermitage also writes: "Reverend Norment went on to say the presidential parrot was 'excited by the multitude and … let loose perfect gusts of 'cuss words.' People were 'horrified and awed at the bird's lack of reverence."
Have a tip we should know? tips@mediaite.com