A "Terribly Hurt" Whoopi Goldberg Lashes Out At NY Times' "Sloppy Journalism" Over Oscar Snub (UPDATE)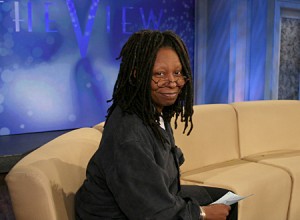 As many have pointed out, there are zero black acting nominees for the Oscars this year. The New York Times did an article on the subject entitled "Hollywood's Whiteout", in which they discussed the very small amount of winners over the years. They listed every one most…except for Whoopi Goldberg. And don't think she didn't notice. On today's View, Goldberg lashed out at the Times for its "sloppy journalism" going so far as to bring her Oscar to the set to prove that, yes, it does exist.
After Barbara Walters mentioned the apparent snub and asked how she felt, Goldberg said it "hurt [her] terribly," while admitting that she was "embarrassed" for feeling that way. However, it was clear just how stung she was.
"It's hard to not take it personally. It's very hard not to take it personally. You know, there's a lot of stuff that people say and do but this is sloppy journalism because this is not a hidden thing. Everybody kind of knows. People in Somalia know, people in China know, because I, I know it's hard to believe, because I am a world-wide person whose known. Because there wasn't anyone like me and it was 70 years between Hattie McDaniel, the first black woman to win, and me. So this omission, I don't know what to say, there's nothing I can say except you're sloppy in your work and you're supposed to be better than this. This is the New York Times. It's not some bozo paper from Hoochie-Coochie Land."
It would be easy to look quickly and condemn Goldberg as just another actress diva, however, it should be noted that she is only one of thirteen black actors to win the award, something that she clearly counts as one of the biggest moments of her life. You'd think there'd be some room to mention number four in an article of more than 2,000 words.
Still, there's no reason to be angry at the Times. And there's no reason to be angry at Goldberg. Who we should be angry at is Hollywood. Thirteen? Only thirteen? Seriously?
(h/t TMZ)
UPDATE: This post originally stated that the Times article listed every winner except Goldberg. This isn't true as they also didn't mention Louis Gossett, Jr.. I should have been clearer that the original article never claimed to list every black winner, just those in recent years. However, I still understand why Goldberg was hurt. Like I said, though, the real anger shouldn't be directed at the Times or the actress. The real problem is that there are so few black winners that any one of them has legitimate reason to feel left out when not mentioned.
Check out the clip from The View below:
Have a tip we should know? tips@mediaite.com