Beck, Rand, Orwell Top Amazon Bestseller List: Americans Have An Appetite For Dystopia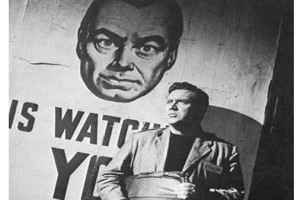 The tenth longest novel ever is the second best selling political fiction book on Amazon.com right now, second only to Glenn Beck's reinterpretation of the #10 longest novel ever written. George Orwell's version of Dystopia clocks in at #3. The absolute sales numbers, which show that Atlas Shrugged has sold more than 500,000 more in the past two years than when it was first released, are even more astounding. Are Americans worried about something?
According to Slate (and Nick Gillespie at Reason agrees), it's all Barack Obama's fault. In fact, the change in sales of Atlas Shrugged can be directly traced back to November 2008. From Slate:
Sales of Atlas Shrugged have tripled since Obama took office. From 2000 through 2008, the 50-year-old 1,088-page tome sold about 166,000 copies a year. Since Obama was sworn in, more than 600,000 copies have been sold. That's 530,000 more than it sold in its first year of publication, when it was reviewed by more than 100 literary outlets. It's the second-best selling political book on Amazon, ahead of trashy political thrillers and behind only Glenn Beck's forthcoming opus The Overton Window.
Not to mention that Glenn Beck himself was barely a household name before his Fox News show was born a month after our last Inauguration Day, and the Overton Window plot, as described in early press teasers sure sounds like a 2010 remake of the Rand classic. So has President Obama "fundamentally transformed" America into a nation of rebellious industrialists with shrines to John Galt on their bedsides? Sales of 1984 would beg to differ.
What the focus on a rebirth of Ayn Rand enthusiasts overlooks is that Orwell, a self-described socialist, is among the "trashy political thrillers" on the list for his anti-authoritarian masterpiece 1984, also a favorite among the left. Sure, it isn't selling quite as well as the top two, and many could argue that the anti-Obama crowd could reinterpret the book to get a right-wing message out of it, but it proves that ultimately the thread that holds these top three books together is not ideology– it's a sense of siege. It's a dire view of a future ruined by lies, no matter what breed of politician is telling them. It just so happens that our current leader supports the expansion of some aspects of government to help the underprivileged, but that doesn't rule out the possibility that the same fears driving the anti-Bush movement on the left are partly responsible for the surge in popularity of dystopian novels (think of the neverending Eurasian wars in 1984, or the massive corporate bailouts in Atlas Shrugged). It can't just be the Tea Partiers buying up thousands of pages of anti-corruption nightmare fodder, as simple of an explanation as that would be for these sales.
[Photo via]
Have a tip we should know? tips@mediaite.com