On the cover of Glamour's October issue, Gwen Stefani is positively in your face. Feeling her pink fuzzy grip, we've pulled some of Gwen's best cover work from the last five years — there can be only one best Gwen Stefani cover!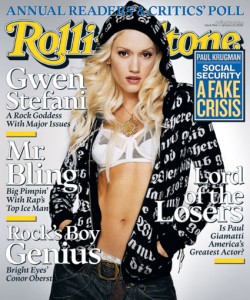 Rolling Stone, January 2005: This cover is classic Gwen Stefani — we'd recognize that midriff anywhere. On the heels of her first solo album L.A.M.B. (2004), Gwen was coming into her own. So what if she's been polished within an inch of her life.
Mediaite Grade (B+): The bra-and-hoodie look screams 'post-'90s grunge, angsty funk' louder than "Rock Goddess with Major Issues." But let it be known that she was ahead of the curve on busy sweaters. Safe to say, then is when some of us fell in love with Gwen.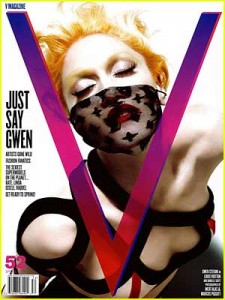 V, March 2008: Couture magazine V, decidedly more artsy than mainstream, breaks step with the drumbeat of Gwen Stefani covers. Instead of her body, Gwen's face is featured prominently though veiled; there is interesting play between the light and her skin, which looks real in some places and pale and plastic in others; and her hair is … orange?
Mediaite Grade (B-): We like all of the visual play on the cover, but Gwen's face cradled in the V is overtly sexual, in kind of an uncomfortable way. Maybe it's just us, but the V over her face is inherently vaginal, and the nearly overhead perspective makes it seem like she's going into our crotch. But maybe we're projecting.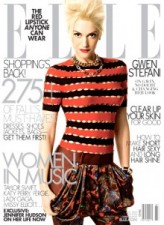 Elle, July 2009: In hindsight it has been a pretty nutty summer of Elle covers. Megan Fox in June was fine, but then things got weird. This Gwen Stefani cover set off an avalanche of weird, sending up a black plume of rubbery covers with Miley Cyrus in August and Jennifer Aniston in September.
Mediaite Grade (C+): We're going to stick with our guns on this one: If we may say so, Gwen's whole look is a little strange, and she appears even paler between the white background and rich tones of her clothing. For whatever reason her shoulders look enormous, yet we still feel her flaunting that midriff through horizontal stripes. File this under edgy gone wrong.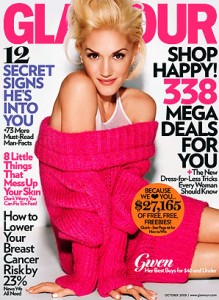 Glamour, October 2009: We've picked on Glamour for indulging in funky trompe l'oeil before, but we really dig it this time around. Somehow Gwen really pops off the page (and not in the weird cunnilingus way).
Mediaite Grade (A-): If Gwen's palette of pale and blonde tones is poisonous, Glamour has found the antidote with pink. Her skin doesn't look too pale, nor does her hair look too orange. Gwen comes alive on the page as her loose doo and fingertip run over the margins.
COVER WARS WINNER: Magazines are always trying to make the subject of the cover pop off the page: Ted Kennedy on the cover of Newsweek; Kristen Bell on this month's Allure; Audrina Partridge on the cover of Maxim. When the pop goes off without a hitch, you forget that you're looking a magazine because you've already been sucked into the vortex. There's no hitch in the latest Glamour's pop. (But we're still waiting on our plus-sized triples cover).
Have a tip we should know? tips@mediaite.com